by Melissa Pappas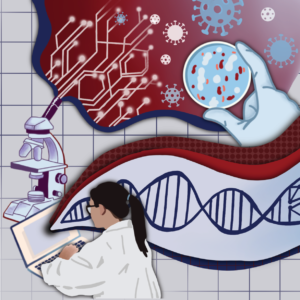 The Penn Center for Precision Engineering for Health (CPE4H) was established late last year to accelerate engineering solutions to significant problems in healthcare. The center is one of the signature initiatives for Penn's School of Engineering and Applied Science and is supported by a $100 million commitment to hire faculty and support new research on innovative approaches to those problems.
Acting on that commitment, CPE4H solicited proposals during the spring of 2022 for seed grants of $80K per year for two years for research projects that address healthcare challenges in several key areas of strategic importance to Penn: synthetic biology and tissue engineering, diagnosis and drug delivery, and the development of innovative devices. While the primary investigators (PIs) for the proposed projects were required to have a primary faculty appointment within Penn Engineering, teams involving co-PIs and collaborators from other schools were eligible for support. The seed program is expected to continue for the next four years.
"It was a delight to read so many novel and creative proposals," says Daniel A. Hammer, Alfred G. and Meta A. Ennis Professor in Bioengineering and the Inaugural Director of CPE4H. "It was very hard to make the final selection from a pool of such promising projects."
Judged on technical innovation, potential to attract future resources, and ability to address a significant medical problem, the following research projects were selected to receive funding.
Evolving and Engineering Thermal Control of Mammalian Cells
Led by Lukasz Bugaj, Assistant Professor in Bioengineering, this project will engineer molecular switches that can be toggled on and off inside mammalian cells at near-physiological temperatures. Successful development of these switches will provide new ways to communicate with cells, an advance that could be used to make safer and more effective cellular therapies.  The project will use directed evolution to generate and find candidate molecular tools with the desired properties. Separately, the research will also develop new technology for manipulating cellular temperature in a rapid and programmable way. Such devices will enhance the speed and sophistication of studies of biological temperature regulation.
A Quantum Sensing Platform for Rapid and Accurate Point-of-Care Detection of Respiratory Viral Infections
Combining microfluidics and quantum photonics, PI Liang Feng, Professor in Materials Science and Engineering and Electrical and Systems Engineering, Ritesh Agarwal, Professor in Materials Science Engineering, and Shu Yang, Joseph Bordogna Professor in Materials Science and Engineering and Chemical and Biomolecular Engineering, are teaming up with Ping Wang, Professor of Pathology and Laboratory Medicine in Penn's Perelman School of Medicine, to design, build and test an ultrasensitive point-of-care detector for respiratory pathogens. In light of the COVID-19 pandemic, a generalizable platform for rapid and accurate detection of viral pathogenesis would be extremely important and timely.
Versatile Coacervating Peptides as Carriers and Synthetic Organelles for Cell Engineering
PI Amish Patel, Associate Professor in Chemical and Biomolecular Engineering, and Matthew C. Good, Associate Professor of Cell and Developmental Biology in the Perelman School of Medicine and in Bioengineering, will design and create small proteins that self-assemble into droplet-like structures known as coacervates, which can then pass through the membranes of biological cells. Upon cellular entry, these protein coacervates can disassemble to deliver cargo that modulates cell behavior or be maintained as synthetic membraneless organelles. The team will design new chemistries that will facilitate passage across cell membranes, and molecular switches to sequester and release protein therapeutics. If successful, this approach could be used to deliver a wide range of macromolecule drugs to cells.
Towards an Artificial Muscle Replacement for Facial Reanimation
Cynthia Sung, Gabel Family Term Assistant Professor in Mechanical Engineering and Applied Mechanics and Computer Information Science, will lead a research team including Flavia Vitale, Assistant Professor of Neurology and Bioengineering, and Niv Milbar, Assistant Instructor in Surgery in the Perelman School of Medicine. The team will develop and validate an electrically driven actuator to restore basic muscle responses in patients with partial facial paralysis, which can occur after a stroke or injury. The research will combine elements of robotics and biology, and aims to produce a device that can be clinically tested.
"These novel ideas are a great way to kick off the activities of the center," says Hammer. "We look forward to soliciting other exciting seed proposals over the next several years."
This article originally appeared in Penn Engineering Today.