by Holly Wojcik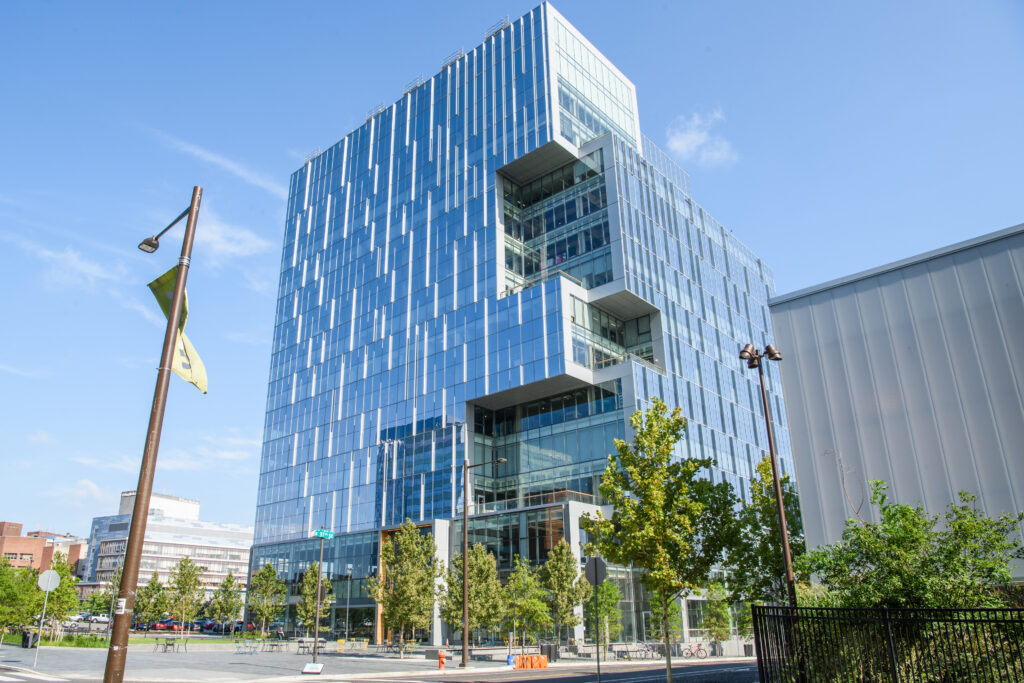 On September 14, Wexford Science & Technology, LLC and the University of Pennsylvania announced that the University has signed a lease for new laboratory space that will usher in a wave of novel vaccine, therapeutics, and engineered diagnostics research to West Philadelphia. Research teams from Penn are poised to move into 115,000 square feet of space at One uCity Square, the 13-story, 400,000 square foot purpose-built lab and office building within the vibrant uCity Square Knowledge Community being developed by Wexford. This is the largest lease in the building, encompassing four floors, and bringing the building to over 90% leased. The building currently includes industry tenants Century Therapeutics (NASDAQ: IPSC), Integral Molecular, Exponent (NASDAQ: EXPO), and Charles River Laboratories (NYSE: CRL).
The new University space will house Penn Medicine's Institute for RNA Innovation and Penn Engineering's Center for Precision Engineering for Health, underscoring the University's commitment to a multi-disciplinary and collaborative approach to research that will attract and retain the best talent and engage partners from across the region. Penn's decision to locate at One uCity Square reinforces uCity Square's evolution as a central cluster of academic, clinical, commercial, entrepreneurial, and amenity spaces for the area's innovation ecosystem, and further cements Philadelphia's position as a top life sciences market.
Jonathan Epstein, MD, Executive Vice Dean and Chief Scientific Officer of Penn Medicine, shared his anticipation for the opportunities that lie ahead: "Penn Medicine is proud to build on its existing clinical presence in uCity Square and establish an innovative and collaborative research presence at the heart of uCity Square's multidisciplinary innovation ecosystem. This strategic move underscores our commitment to accelerating advancements in biomedical research, industry collaboration, and equipping our talented teams with the resources they need to shape the future of healthcare."
Locating the Penn Institute for RNA Innovation in the heart of the uCity Square community brings together researchers across disciplines who are already pursuing new vaccines and treatments, and better ways to deliver them. Their shared work will help to power the next phase of vaccine discovery and development.
Likewise, anchoring the work of Penn Engineering's Center in the One uCity Square space will allow the School's multi-disciplinary researchers and their collaborators to advance new clinical and diagnostic methods that will focus on intelligent therapeutics, genome design, diagnostics for discovery of human biology, and engineering the human immune shield.
"Penn Engineering has made a substantial commitment to precision engineering for health, an area that is not only important and relevant to engineering, but also critical to the future of humanity," said Vijay Kumar, Nemirovsky Family Dean of Penn Engineering. "The space in One uCity Square will add another 30,000 square feet of space for our engineers to develop technologies that will fight future pandemics, cure incurable diseases, and extend healthy life spans around the world."
Spearheading the Penn Institute for RNA Innovation will be Drew Weissman, MD, PhD, the Roberts Family Professor for Vaccine Research, who along with Katalin Karikó, PhD, adjunct professor of Neurosurgery, discovered foundational mRNA technology that enabled the creation of vital vaccine technology, including the FDA-approved mRNA-based COVID-19 vaccines developed by Pfizer-BioNTech and Moderna.
In this new space at One uCity Square, Weissman and his research team and collaborators will further pursue their groundbreaking research efforts with a goal to develop new therapeutics and vaccines and initiate clinical trials for other devastating diseases.
In addition, two established researchers will join the Institute at One uCity Square: Harvey Friedman, MD, a professor of Infectious Diseases, who leads a team researching various vaccines. He will be joined by Vladimir Muzykantov, MD, PhD, Founders Professor in Nanoparticle Research, who focuses on several projects related to targeting the delivery of drugs, including mRNA, to create more effective, targeted pathways to deliver drugs to the vascular system, treating a wide range of diseases that impact the brain, lung, heart, and blood.
Dan Hammer, Alfred G. and Meta A. Ennis Professor in the Departments of Bioengineering and Chemical and Biomolecular Engineering in Penn Engineering and Director of the Center for Precision Engineering for Health, will oversee the Center's innovations in diagnostics and delivery, cellular and tissue engineering, and the development of new devices that integrate novel materials with human tissues. The Center will bring together scholars from all departments within Penn Engineering and will help to foster increased collaboration with campus colleagues at Penn's Perelman School of Medicine and with industry partners.
Joining the Center researchers in One uCity Square are Noor Momin, Sherry Gao, and Michael Mitchell. Noor Momin, who will join Penn Engineering in early 2024 as an assistant professor in Bioengineering, will leverage her lab's expertise in cardiovascular immunology, protein engineering and pharmacokinetic modeling to develop next-generation treatments and diagnostics for cardiovascular diseases.
Read the full story in Penn Engineering Today.
Jonathan Epstein and Vladimir Muzykantov are members of the Penn Bioengineering Graduate Group.
Michael Mitchell is an Associate Professor in Bioengineering.