Nearly four years ago, when Angelica Du was a freshman, she recalled being completely "awestruck" upon walking into her first Scholarship Celebration.
"It's just really warm," the now-senior noted at this year's event, which took place Wednesday, Nov. 20. "My donors have always been so warm with me."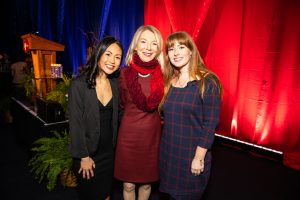 Du—with a smile that's constant, as well as contagious—scanned the red-and-blue draped walls of the John R. Rockwell Gymnasium, completely transformed for the yearly event on campus, and eyed the appetizers being passed. She glanced at her proud mom, a few folks over. Hosted by the Undergraduate Named Scholarship Program, the Celebration is one that has grown to attract hundreds of scholarship donors and their recipients and families, for an evening of networking and good-old-fashioned catching up.
"[Angelica] tells me that she's proud," said Jerry Riesenbach, a Wharton School alumnus who helped support Du's cost of education through the Class of 1960 scholarship fund. "And I said to her, she makes us proud. Being able to provide funds is one thing, but seeing the benefit that goes to these young people, who have such tremendous aspirations and are so grateful, is another."
At Penn, Du, who will graduate with her bachelor's in bioengineering in May and her master's in December 2020, designs robots and conducts neurobiology research. She teaches thermodynamics and critical writing to her peers. She sings for a Disney-themed a cappella group, serves her community in a Christian union, celebrates her culture in the Penn Philippine Association, and advocates within several honor societies. This past summer, she worked at Thermo Fisher Scientific, running experiments for a next-generation sequencer that will take a patient's DNA, sequence it, and diagnose it within 24 hours.
Read the full story at Penn Today.  Media contact Lauren Hertzler.