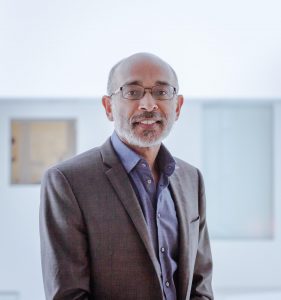 Speaker: Emery N. Brown, MD, PhD
Edward Hood Taplin Professor of Medical Engineering and of Computational Neuroscience, MIT
Warren M. Zapol Professor of Anaesthesia, Harvard Medical School
Massachusetts General Hospital
Date: Thursday, April 1, 2021
Time: 3:00-4:00 PM EDT
Zoom – check email for link or contact ksas@seas.upenn.edu
Title: "Deciphering the Dynamics of the Unconscious Brain Under General Anesthesia"
Abstract:
General anesthesia is a drug induced state that is critical for safely and humanely allowing a patient to undergo surgery or an invasive diagnostic procedure. During the last 10 years the study of the neuroscience of anesthetic drugs has been an active area of research. In this lecture we show how anesthetics create altered states of arousal by creating oscillation that impede how the various parts of the brain communicate. These oscillations, which are readily visible on the electroencephalogram (EEG), change systematically with anesthetic dose, anesthetic class and patient age. We will show how the EEG oscillations can be used to monitor the brain states of patients receiving general anesthesia, manage anesthetic delivery and learn about fundamental brain physiology.
EMERY BROWN BIO:
Emery N. Brown is the Edward Hood Taplin Professor of Medical Engineering and Professor of Computational Neuroscience at Massachusetts Institute of Technology. He is the Warren M. Zapol Professor of Anaesthesia at Harvard Medical School and Massachusetts General Hospital (MGH), and an anesthesiologist at MGH.
Dr. Brown received his BA (magna cum laude) in Applied Mathematics from Harvard College, his MA and PhD in statistics from Harvard University, and his MD (magna cum laude) from Harvard Medical School. He completed his internship in internal medicine at the Brigham and Women's Hospital and his residency in anesthesiology at MGH. He joined the staff at MGH, the faculty at Harvard Medical School in 1992 and the faculty at MIT in 2005.
Dr. Brown is an anesthesiologist-statistician recognized for developing signal processing algorithms for neuroscience data analysis and for defining the neurophysiological mechanisms of general anesthesia.
Dr. Brown was a member of the NIH BRAIN Initiative Working Group. He is a fellow of the IEEE, the AAAS, the American Academy of Arts and Sciences and the National Academy of Inventors. Dr. Brown is a member of the National Academy of Medicine, the National Academy of Sciences and the National Academy of Engineering. He received an NIH Director's Pioneer Award, the National Institute of Statistical Sciences Sacks Award, the American Society of Anesthesiologists Excellence in Research Award, the Dickson Prize in Science, the Swartz Prize for Theoretical and Computational Neuroscience and a Doctor of Science (honoris causa) from the University of Southern California.