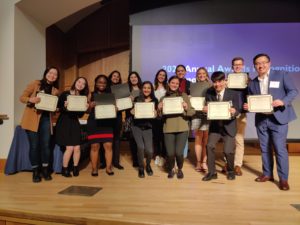 Congratulations to the Bioengineering undergraduate student recipients of awards from the School of School of Engineering and Applied Science  for the 2021-2022 academic year. These  awards are given annually by the school and the department in recognition of outstanding scholarship and service. Read the full list of Bioengineering undergraduate award winners below.
The Wolf-Hallac Award: Neepa Gupta (BAS 2022). This award was established in October 2000 to recognize the graduating female senior from across Penn Engineering's departments who is seen as a role model, has achieved a high GPA (in the top 10% of their class), and who has demonstrated a commitment to school and/or community.
The Hugo Otto Wolf Memorial Prize: Ian Ong (BSE 2022) and Iman Hossian (BSE 2022). This prize is awarded to one or more members of each department's senior class, distinguishing students who meet with great approval of the professors at large through "thoroughness and originality" in their work.
The Herman P. Schwan Award: George Feng (BSE and Jerome Fisher Program in Management & Technology 2022). This department award honors a graduating senior who demonstrates the "highest standards of scholarship and academic achievement."
Exceptional Service Awards recognize students for their outstanding service to the University and their larger communities: Estelle Burkhardt (BSE 2022), Khristina Khaw (BSE 2022), Zachary Spalding (BSE 2022), and Nicole Wojnowski (BSE 2022).
The Student Leadership Award: Kerry Blatney (BSE 2022). This award is given annually to a student in Bioengineering who has demonstrated, through a combination of academic performance, service, leadership, and personal qualities, that they will be a credit to the Department, the School, and the University.
The Engineering Alumni Society E. Stuart Eichert, Jr. Student Award: Gloria Lee (BSE 2023). This award is given annually by the Engineering Alumni Society to a Penn Engineering third-year student who best exemplifies the characteristics of selfless service to the University and the community.
Additionally, the Bioengineering Department  also presents a single lab group with the Albert Giandomenico Award which reflects their "teamwork, leadership, creativity, and knowledge applied to discovery-based learning in the laboratory." This year's group consists of Caitlin Frazee (BSE 2022), Ifeoluwa Poppola (BSE 2022), Alexa Rybicki (BSE 2022), and Michelle White (2022).
Three Bioengineering Senior Design teams were chosen for recognition in the Bioengineering Senior Design Competition:
Team Chrysalis: Team members Julia Dunn, Rachel Gu, Julia Lasater, & Carolyn Zhang. Chrysalis is a smart swaddle system comprising an electric swaddle and accompanying iOS application that comforts neonatal abstinence syndrome infants via stochastic resonance and maternal heartbeat vibrational patterns to reduce opioid withdrawal symptoms without pharmacological intervention or constant nurse oversight as well as streamlines the Eat, Sleep, Console documentation process for nurses.
Team Modulo Prosthetics: Team members Alisha Agarwal, Michelle Kwon, Gary Lin, Ian Ong, & Zachary Spalding. Modulo Prosthetic is an adjustable, low-cost, thumb prosthetic with integrated haptic feedback that attaches to the metacarpophalangeal (MCP) joint of partial hand amputees and assists in activities of daily living (ADLs).
Team ReiniSpec: Team members Caitlin Frazee, Caroline Kavanagh, Ifeoluwa Popoola, Alexa Rybicki, & Michelle White. ReiniSpec is a redesigned speculum to improve the gynecological exam experience, increasing patient comfort with a silicone shell and using motorized arm adjustments to make it easily adjustable for each patient, while also incorporating a camera, lights, and machine learning to aid in better diagnosis by gynecologists.
Research for these projects was conducted in the George H. Stephenson Foundation Education Laboratory & Bio-Maker Space. Read the full abstracts and watch the pitch videos for all the 2022 Senior Design projects on the Stephenson Bio-MakerSpace website.
A full list of SEAS award descriptions and recipients can be found here.