by Sophie Burkholder
New Studies in Mechanobiology Could Open Doors for Cellular Disease Treatment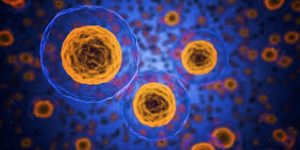 When we think of treatments at the cellular level, we most often think of biochemical applications. But what if we began to consider more biomechanical-oriented approaches in the regulation of cellular life and death? Under a grant from the National Science Foundation (NSF),Worcester Polytechnic Institute's (WPI) Head of the Department of Biomedical Engineering Kristen Billiar, Ph.D., performs research that looks at the way mechanical stimuli can affect and trigger programmed cell death.
Billiar, who received his M.S.E. and Ph.D. from Penn, began his research by first noticing the way that cells typically respond to the mechanical stimuli in their everyday environment, such as pressure or stretching, with behaviors like migration, proliferation, or contraction. He and his research team hope to find a way to eventually predict and control cellular responses to their environment, which they hope could open doors to more forms of treatment for disorders like heart disease or cancer, where cellular behavior is directly linked to the cause of the disease.
Self-Learning Algorithm Could Help Improve Robotic Leg Functionality
Obviously, one of the biggest challenges in the field of prosthetics is the extreme difficulty in creating a device that perfectly mimics whatever the device replaces for its user. Particularly with more complex designs that involve user-controlled motion for joints in the limbs or hands, the electrical circuits implemented are by no means a perfect replacement of the neural connections in the human body from brain to muscle. But recently at the University of Southern California Viterbi School of Engineering, a team of researchers led by Francisco J. Valero-Cuevas, Ph. D.,  developed an algorithm with the ability to learn new walking tasks and adapt to others without any additional programming.
The algorithm will hopefully help to speed the progress of robotic interactions with the world, and thus allow for more adaptive technology in prosthetics, that responds to and learns with their users. The algorithm Valero-Cuevas and his team created takes inspiration from the cognition involved with babies and toddlers as they slowly learn how to walk, first through random free play and then from pulling on relevant prior experience. In a prosthetic leg, the algorithm could help the device adjust to its user's habits and gait preferences, more closely mimicking the behavior of an actual human leg.
Neurofeedback Can Improve Behavioral Performance in High-Stress Situations
We're all familiar with the concept of being "in the zone," or the feeling of extraordinary focus that we can sometimes have in situations of high-stress. But how can we understand this shift in mindset on a neuroengineering level? Using the principal of the Yerkes-Dodson law, which says that there is a state of brain arousal that is optimal for behavioral performance, a team of biomedical engineering researchers at Columbia University hope to find ways of applying neurofeedback to improving this performance in demanding high-stress tasks.
Led by Paul Sajda, Ph.D., who received his doctoral degree from Penn, the researchers used a brain-computer interface to collect electroencephalography (EEG) signals from users immersed in virtual reality aerial navigation tasks of varying difficulty levels. In doing so, they were able to make connections between stressful situations and brain activity as transmitted through the EEG data, adding to the understanding of how the Yerkes-Dodson law actually operates in the human body and eventually demonstrating that the use of neurofeedback reduced the neural state of arousal in patients. The hope is that neurofeedback may be used in the future to help treat emotional conditions like post-traumatic stress disorder (PTSD).
Ultrasound Stimulation Could Lead to New Treatments for Inflammatory Arthritis
Arthritis, an autoimmune disease that causes painful inflammation in the joints, is one of the more common diseases among older patients, with more than 3 million diagnosed cases in the United States every year. Though extreme measures like joint replacement surgery are one solution, most patients simply treat the pain with nonsteroidal anti-inflammatory drugs or the adoption of gentle exercise routines like yoga. Recently however, researchers at the University of Minnesota led by Daniel Zachs, M.S.E., in the Sensory Optimization and Neural Implant Coding Lab used ultrasound stimulation treatment as a way to reduce arthritic pain in mice. In collaboration with Medtronic, Zachs and his team found that this noninvasive ultrasound stimulation greatly decreased joint swelling in mice who received the treatment as opposed to those that did not. They hope that in the future, similar methods of noninvasive treatment will be able to be used for arthritic patients, who otherwise have to rely on surgical remedies for serious pain.
People and Places
Leadership and Inspiration: EDAB's Blueprint for Engineering Student Life
To undergraduates at a large university, the administration can seem like a mysterious, all-powerful entity, creating policy that affects their lives but doesn't always take into account the reality of their day-to-day experience. The Engineering Deans' Advisory Board (EDAB) was designed to bridge that gap and give students a platform to communicate with key decision makers.
The 13-member board meets once per week for 60 to 90 minutes. The executive board, comprised of four members, also meets weekly to plan out action items and brainstorm. Throughout his interactions with the group, board president Jonathan Chen, (ENG '19, W '19), has found a real kinship with his fellow board members, who he says work hard and enjoy one another's company in equal measure.
Bioengineering major Daphne Cheung (ENG'19) joined the board as a first-year student because she saw an opportunity to develop professional skills outside of the classroom. "For me, it was about trying to build a different kind of aptitude in areas such as project management, and learning how to work with different kinds of people, including students and faculty, and of course, the deans," she says.
Read the full story on Penn Engineering's Medium Blog. Media contact Evan Lerner.
Purdue University College of Engineering and Indiana University School of Medicine Team Up in New Engineering-Medicine Partnership
The Purdue University College of Engineering and the Indiana University School of Medicine recently announced a new Engineering-Medicine partnership, that seeks to formalize ongoing and future collaborations in research between the two schools. One highlight of the partnership is the establishment of a new M.D./M.S. degree program in biomedical engineering that will allow medical students at Indiana University to receive M.S.-level training in engineering technologies as they apply to clinical practice. The goal of this new level of collaboration is to further involve Purdue's engineering program in the medical field, and to exhibit the benefits that developing an engineering mindset can have for medical students. The leadership of this new partnership includes