by Melissa Pappas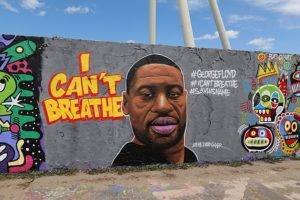 The murder of George Floyd, an unarmed Black man who was killed by a White police officer, affected the mental well-being of many Americans. The effects were multifaceted as it was an act of police brutality and example of systemic racism that occurred during the uncertainty of a global pandemic, creating an even more complex dynamic and emotional response.
Because poor mental health can lead to a myriad of additional ailments, including poor physical health, inability to hold a job and an overall decrease in quality of life, it is important to understand how certain events affect it. This is especially critical when the emotional burden of these events  falls most on demographics affected by systemic racism. However, unlike physical health, mental health is challenging to characterize and measure, and thus, population-level data on mental health has been limited.
To better understand patterns of mental health on a population scale, Penn Engineers Lyle H. Ungar, Professor of Computer and Information Science (CIS), and Sharath Chandra Guntuku, Research Assistant Professor in CIS, take a computational approach to this challenge. Drawing on large-scale surveys as well as language analysis in social media through their work with the World Well-Being Project, they have developed visualizations of these patterns across the U.S.
Their latest study involves tracking changes in emotional and mental health following George Floyd's murder. Combining polling data from the U.S. Census and Gallup, Guntuku, Ungar and colleagues have shown that Floyd's murder spiked a wave of unprecedented sadness and anger across the U.S. population, the largest since relevant data began being recorded in 2009.
Read the full story in Penn Engineering Today.
N.B. Lyle Ungar is also a member of the Penn Bioengineering Graduate Group.