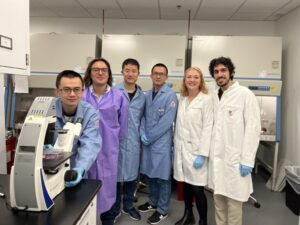 Since the success of the COVID-19 vaccine, RNA therapies have been the object of increasing interest in the biotech world. These therapies work with your body to target the genetic root of diseases and infections, a promising alternative treatment method to that of traditional pharmaceutical drugs.
Lipid nanoparticles (LNPs) have been successfully used in drug delivery for decades. FDA-approved therapies use them as vehicles for delivering messenger RNA (mRNA), which prompts the cell to make new proteins, and small interfering RNA (siRNA), which instruct the cell to silence or inhibit the expression of certain proteins.
The biggest challenge in developing a successful RNA therapy is its targeted delivery. Research is now confronting the current limitations of LNPs, which have left many diseases without an effective RNA therapy.
Liver fibrosis occurs when the liver is repeatedly damaged and the healing process results in the accumulation of scar tissue, impeding healthy liver function. It is a chronic disease characterized by the buildup of excessive collagen-rich extracellular matrix (ECM). Liver fibrosis has remained challenging to treat using RNA therapies due to a lack of delivery systems for targeting activated liver-resident fibroblasts. Both the solid fibroblast structure and the lack of specificity or affinity to target these fibroblasts has impeded current LNPs from entering activated liver-resident fibroblasts, and thus they are unable to deliver RNA therapeutics.
To tackle this issue and help provide a treatment for the millions of people who suffer from this chronic disease, Michael Mitchell, J. Peter and Geri Skirkanich Assistant Professor of Innovation in the Department of Bioengineering, and postdoctoral fellows Xuexiang Han and Ningqiang Gong, found a new way to synthesize ligand-tethered LNPs, increasing their selectivity and allowing them to target liver fibroblasts.
Lulu Xue, Margaret Billingsley, Rakan El-Mayta, Sarah J. Shepherd, Mohamad-Gabriel Alameh and Drew Weissman, Roberts Family Professor in Vaccine Research and Director of the Penn Institute for RNA Innovation at the Perelman School of Medicine, also contributed to this work.
Read the full story in Penn Engineering Today.