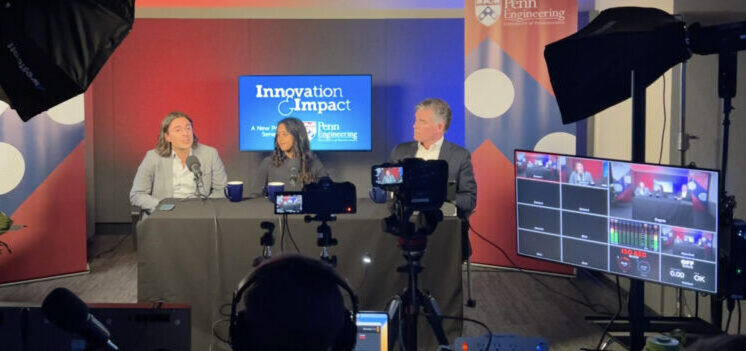 In the most recent episode of the Penn Engineering podcast Innovation & Impact, titled "RNA: Past, Present and Future," David F. Meaney, Senior Associate Dean of Penn Engineering and Solomon R. Pollack Professor in Bioengineering, is joined by Mike Mitchell, Associate Professor in Bioengineering, and Noor Momin, who will be joining Penn Engineering as an Assistant Professor in Bioengineering early next year, to discuss the impact that RNA has had on health care and biomedical engineering technologies.
Mitchell outlines his lab's research that spans drug delivery, new technology in protecting RNA and its applications in treating cancer. Momin details her research, which is focused on optimizing the immune system to protect against illnesses such as cardiovascular diseases and cancer. With Meaney driving the discussion around larger questions, including the possibility of a cancer vaccine, the three discuss what they are excited about now and where the field is going in the future with these emerging, targeted treatments.
Read the full story in Penn Engineering Today.
Subscribe to the Innovation & Impact podcast on Apple Music, Spotify or your favorite listening platforms or find all the episodes on the Penn Engineering YouTube channel.