by Melissa Pappas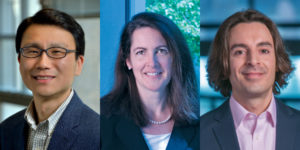 COVID-19 vaccines are just the beginning for mRNA-based therapies; enabling a patient's body to make almost any given protein could revolutionize care for other viruses, like HIV, as well as various cancers and genetic disorders. However, because mRNA molecules are very fragile, they require extremely low temperatures for storage and transportation. The logistical challenges and expense of maintaining these temperatures must be overcome before mRNA therapies can become truly widespread.
With these challenges in mind, Penn Engineering researchers are developing a new manufacturing technique that would be able to produce mRNA sequences on demand and on-site, isolating them in a way that removes the need for cryogenic temperatures. With more labs able to make and store mRNA-based therapeutics on their own, the "cold chain" between manufacturer and patient can be made shorter, faster and less expensive.
The National Science Foundation (NSF) is supporting this project, known as Distributed Ribonucleic Acid Manufacturing, or DReAM, through a four-year, $2 million grant from its Emerging Frontiers in Research and Innovation (EFRI) program.
The project will be led by Daeyeon Lee, Evan C Thompson Term Chair for Excellence in Teaching and Professor in the Department of Chemical and Biomolecular Engineering (CBE), along with Kathleen Stebe, Richer and Elizabeth Goodwin Professor in CBE and in the Department of Mechanical Engineering and Applied Mechanics. They will collaborate with Michael Mitchell, Skirkanich Assistant Professor of Innovation in the Department of Bioengineering, Drexel University's Masoud Soroush and Michael Grady, the University of Oklahoma's Dimitrios Papavassiliou and the University of Colorado Boulder's Joel Kaar.
Read the full story in Penn Engineering Today.