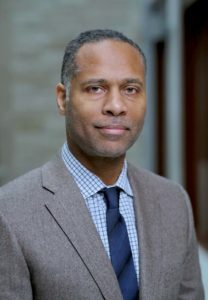 Speaker: Guillermo Ameer, D.Sc.
Daniel Hale Williams Professor of Biomedical Engineering & Surgery
McCormick School of Engineering
Northwestern University
Date: Thursday, September 16, 2021
Time: 3:30-4:30 PM EDT
Zoom – check email for link or contact ksas@seas.upenn.edu
Location: Moore Room 216, 200 S. 33rd Street
Abstract: Regenerative engineering is the convergence of advances in materials science, physical sciences, stem cell and developmental biology, and translational medicine to develop tools that enable the regeneration and reconstruction of tissue and organ function. I will describe how materials can be engineered to play a critical role in treating tissue and organ defects and dysfunction by promoting cellular processes that are conducive to regeneration. Applications of these materials to address the complications of diabetes and orthopaedic injuries will be discussed.
Guillermo Ameer Bio: Dr. Ameer is the Daniel Hale Williams professor of Biomedical Engineering and Surgery in the Biomedical Engineering Department at the McCormick School of Engineering and the Department of Surgery at the Feinberg School of Medicine, Northwestern University. He is the founding director of the Center for Advanced Regenerative Engineering (CARE) and the Director of the NIH-funded Regenerative Engineering Training Program (RE-Training). He received his bachelor's degree in chemical engineering from The University of Texas at Austin and his doctoral degree in chemical and biomedical engineering from the Massachusetts Institute of Technology. His research interests include regenerative engineering, biomaterials, additive manufacturing for biomedical devices, controlled drug delivery and bio/nanotechnology for therapeutics and diagnostics.
Dr. Ameer's laboratory pioneered the development and tissue regeneration applications of citrate-based biomaterials (CBB), the core technology behind the innovative bioresorbable orthopaedic tissue fixation devices CITREFIXTM, CITRESPLINETM, and CITRELOCKTM, which were recently cleared by the F.D.A for clinical use and marketed worldwide. CBBs are the first thermoset synthetic polymers used for implantable biodegradable medical devices. The co-founder of several companies, Dr. Ameer has approximately 300 publications and conference abstracts and over 55 patents issued and pending in 9 countries.
His awards include the National Science Foundation CAREER Award, the American Heart Association's Established Investigator Award, the American Institute of Chemical Engineers (AIChE) Eminent Chemical Engineer Award, the Key to the City of Panama, induction into the Academy of Distinguished Chemical Engineers (U. Texas Mcketta Dept. of Chemical Engineering), and the Society for Biomaterials Clemson Award for Contributions to the Literature. Dr. Ameer is a Fellow of the American Institute of Medical and Biological Engineering (AIMBE), Fellow of the Biomedical Engineering Society (BMES), a Fellow of the AIChE, Fellow of the American Association for the Advancement of Science (AAAS), Fellow of the Materials Research Society, and a Fellow of the National Academy of Inventors. Dr. Ameer is an Associate Editor for the AAAS journal Science Advances and the Regenerative Engineering and Translational Medicine journal; a member of the board of directors of the Regenerative Engineering Society; past board member of BMES and AIMBE; Chair of the AIMBE Awards Committee; Chair-elect of the College of Fellows of AIMBE; and a member of the Scientific Advisory Board of Acuitive Technologies, Inc.- a company that is bringing his biomaterial technologies to the musculoskeletal surgery market.