Sophomores Linda Wu and Nova Meng spent the summer studying coevolution among plants, mutualistic bacteria, and parasitic nematodes in Corlett Wood's biology lab.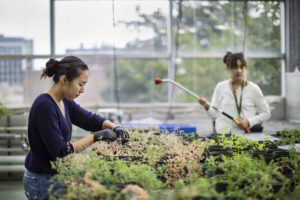 Coevolution is all around us. Think of the elongated blooms that perfectly accommodate a hummingbird's slender mouth parts. But not all examples of species influencing one another's evolutionary course accrue benefits to all parties. Tradeoffs are part of the game.
This summer, sophomores Linda Wu of Annandale, Virginia, and Nova Meng of Akron, Ohio, researched an coevolutionary scenario with benefits as well as costs for the species involved. Their work, supported by the Penn Undergraduate Research Mentoring Program (PURM) and conducted in the lab of biology professor Corlett Wood, has examined the relationship among plants in the genus Medicago, beneficial bacteria that dwell in their roots, and parasitic nematodes that try to steal the plants' nutrients.
The Center for Undergraduate Research & Fellowships provides students in the PURM program awards of $4,500 during the 10-week summer research internship. Wu and Meng stayed busy through those weeks. Whether evaluating plants in a soybean field in Michigan or tending to hundreds—even thousands—of plants in the greenhouse at Penn, these aspiring researchers built a foundation for future scientific endeavors with hands-on practice.
"It's been an amazing experience," says Wu. "I've always been interested in genetics and evolution and have found parasitic relationships in particular really interesting. I like reading about weird parasites. This summer I've gotten to participate in lab meetings, read books about coevolution, and expand my knowledge about the topic."
Mentored by Ph.D. student McCall Calvert, Wu spent the summer focused on the parasites in the Medicago model system the Wood lab uses. "I'm trying to see if those nematodes are specialists or generalists, if they're locally adapted to their host plant or open to parasitizing on different species," Wu says.
To do so, she's grown pots and pots of plants in the Penn greenhouse, experimentally infecting Medicago plants as well as other species, such as carrot and daisy plants, with nematodes, to measure the degree to which the parasites flourish.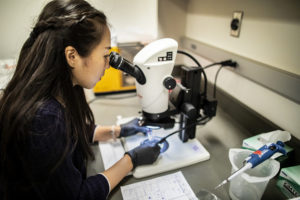 Meng's project looked at the bacterial side of the coevolutionary relationship. Overseen by lab manager and technician Eunnuri Yi, Meng looked at four strains of bacteria, known as rhizobia. Two strains are nitrogen-fixing, giving their associated plants a crucial nutrient to promote growth, while the other two do not seem to contribute nitrogen to the plants, and instead exist as parasites in the plants' roots. "I'm looking at what happens when we infect the plants with nematode parasites," Meng says, "to see if the plants that are open to mutualistic rhizobia are more susceptible to the nematode parasites."
Read the full story in Penn Today.
Linda Wu is a sophomore pursuing an uncoordinated dual degree in business, energy, environment, and sustainability in the Wharton School and in biology with a concentration in ecology and evolution in the College of Arts and Sciences at the University of Pennsylvania.
Nova Meng is a sophomore majoring in bioengineering in the School of Engineering and Applied Science at Penn.