by Evan Lerner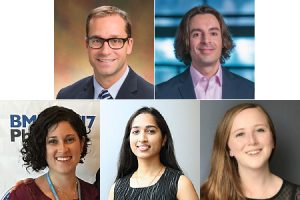 Researchers at Children's Hospital of Philadelphia and the School of Engineering and Applied Science at the University of Pennsylvania have identified ionizable lipid nanoparticles that could be used to deliver mRNA as part of fetal therapy. The proof-of-concept study, published today in Science Advances, engineered and screened a number of lipid nanoparticle formulations for targeting mouse fetal organs and has laid the groundwork for testing potential therapies to treat genetic diseases before birth.
"This is an important first step in identifying nonviral mediated approaches for delivering cutting-edge therapies before birth," said co-senior author William H. Peranteau, MD, an attending surgeon in the Division of General, Thoracic and Fetal Surgery and the Adzick-McCausland Distinguished Chair in Fetal and Pediatric Surgery at CHOP. "These lipid nanoparticles may provide a platform for in utero mRNA delivery, which would be used in therapies like fetal protein replacement and gene editing."
Michael J. Mitchell, Skirkanich Assistant Professor of Innovation in Penn Engineering's Department of Bioengineering, is the other co-senior author of the study. The co-first authors are Mitchell Lab members Rachel Riley, a postdoctoral fellow, and Margaret Billingsley, a graduate student, and Peranteau Lab member Meghana Kashyap, a research fellow.
Recent advances in DNA sequencing technology and prenatal diagnostics have made it possible to diagnose many genetic diseases before birth. Some of these diseases are treated by protein or enzyme replacement therapies after birth, but by then, some of the damaging effects of the disease have taken hold. Thus, applying therapies while the patient is still in the womb has the potential to be more effective for some conditions. The small fetal size allows for maximal therapeutic dosing, and the immature fetal immune system may be more tolerant of replacement therapy.
Read the full story in Penn Engineering Today.
NB: Rachel Riley is now Assistant Professor in Biomedical Engineering at Rowan University.