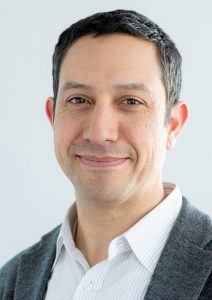 Speaker: Christopher J. Hernandez, Ph.D.
Professor, Sibley School of Mechanical and Aerospace Engineering, Cornell University
Adjunct Scientist, Hospital for Special Surgery
Date: Thursday, February 4, 2021
Time: 3:00-4:00 PM EST
Zoom – check email for link or contact ksas@seas.upenn.edu
Title: "Microbes in Biomechanics"
This seminar is jointly hosted by the Department of Bioengineering and the Department of Mechanical Engineering and Applied Mechanics.
Abstract:
The idea that mechanical stresses influence the growth and form of organs and organisms originated in the 1800s and is the basis for the modern study of biomechanics and mechanobiology. Biomechanics and mechanobiology are well studied in eukaryotic systems, yet eukaryotes represent only a small portion of the diversity and abundance of life on Earth. Bacteria exhibit broad influences on human health (as both pathogens and as beneficial components of the gut microbiome) and processes used in biotechnology and synthetic biology. Over the past eight years my group has explored mechanobiology within individual bacteria and the effects of changes in the composition of commensal bacterial communities on the biomechanics in the musculoskeletal system.
The ability of the bacteria to not only resist mechanical loads (biomechanics) but also to respond to changes in the mechanical environment (mechanobiology) is necessary for survival. Here I describe a novel microfluidic platform used to explore the biomechanics and mechanobiology of individual, live bacteria. I discuss work from my group demonstrating that mechanical stress within the bacterial cell envelope can influence the assembly and function of multicomponent efflux pumps used by bacteria to resist toxins and antibiotics. Additionally, I share some of our more recent work showing that mechanical stress and strain within the bacterial cell envelope can stimulate a bacterial two-component system controlling gene expression. Our findings demonstrate that bacteria, like mammalian cells, have mechanosensitive systems that are key to survival.
In musculoskeletal disease, bacteria are commonly viewed as sources of infection. However, in the past decade the studies by my group and others have suggested that commensal bacteria – the microbiome – can modulate the pathogenesis of musculoskeletal disorders. My group is among the first to study the effects of the gut microbiome on orthopaedic disorders. Here I provide an introduction to the microbiome and current concepts of how modifications to the gut microbiome could influence the musculoskeletal system. Specifically, I discuss studies from my group which are the first to demonstrate that the gut microbiome influences bone biomechanics and the development of infection of orthopaedic implants.
Bio:
Dr. Hernandez is Professor in the Sibley School of Mechanical and Aerospace Engineering at Cornell University and is an Adjunct Scientist at the Hospital for Special Surgery. Dr. Hernandez is a Fellow of the American Institute for Medical and Biological Engineering (AIMBE), the American Society of Mechanical Engineers (ASME), and the American Society for Bone and Mineral Research (ASBMR). He is the 2018 recipient of the Fuller Albright Award for Scientific Excellence from the American Society for Bone and Mineral Research. He has served on the Board of Directors of the Orthopaedic Research Society and the American Society for Bone and Mineral Research. His laboratory's research currently focuses on the effects of the microbiome on bone and joint disorders, periprosthetic joint infection and the biomechanics and mechanobiology of bacteria.