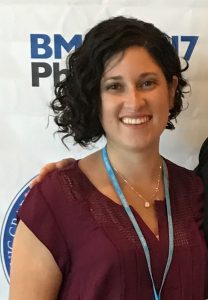 The Department of Bioengineering is proud to congratulate Postdoctoral Fellow Rachel Riley on her appointment as an Assistant Professor in Biomedical Engineering at Rowan University starting September 2020.
Originally from Matawan, NJ, Riley has been an NIH Postdoctoral Fellow in the Mitchell Lab since 2018. Her move to a faculty position at Rowan marks a return, as she received her B.S. in Civil and Environmental Engineering there in 2012. Riley went on to receive her Ph.D. in Biomedical Engineering in 2018 at the University of Delaware with Emily Day, Ph.D. before joining the lab of Michael J. Mitchell, Ph.D., Skirkanich Assistant Professor of Innovation, later that year. The Mitchell Lab's research lies at the interface of biomaterials science, drug delivery, and cellular and molecular bioengineering to fundamentally understand and therapeutically target biological barriers.
"Rachel has had a prolific academic career at the University of Delaware and at Penn, launching several exciting research projects and mentoring the next generation of STEM researchers," Mitchell says. "I'm very hopeful that her new position as an Assistant Professor of Biomedical Engineering at Rowan University will permit her to engineer new drug delivery technologies for women's health applications."
Research in the Riley Lab at Rowan will explore how nanoparticle drug delivery technologies can be engineered specifically for applications in women's health. They will use nanoparticles as tools to study and treat gynecological cancers, fetal diseases, and pregnancy complications. Riley's ultimate goal is to gain a fundamental understanding of how nanoparticle structure influences delivery to gynecological tissues to enable them to take an engineering approach to tackle new applications in women's health.
Riley says that she is committed to supporting women and minorities in STEM disciplines and she looks forward to continuing collaborations with Penn and starting new collaborations with researchers at Cooper Medical School at Rowan University (CMSRU). Congratulations, Dr. Riley!