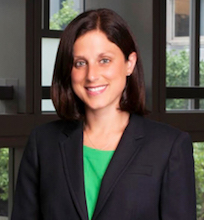 Jennifer E. Phillips-Cremins, Associate Professor and Dean's Faculty Fellow in Bioengineering and Genetics, has been awarded the 2022 Dr. Susan Lim Award for Outstanding Young Investigator by the International Society for Stem Cell Research (ISSCR), the preeminent, global organization dedicated to stem cells research.
This award recognizes the exceptional achievements of an investigator in the early part of his or her independent career in stem cell research. Cremins works in the field of epigenetics, and is a pioneer in understanding how chromatin,  the substance within a chromosome, works:
"Dr. Phillips-Cremins is a gifted researcher with diverse skills across cell, molecular, and computational biology. She is a shining star in the stem cell field who has already made landmark contributions in bringing long-range chromatin folding mechanisms to stem cell research. In addition to her skills as an outstanding researcher," ISSCR President Melissa Little, Ph.D., said. "She has flourished as an independent investigator, providing the stem cell field with unique and creative approaches that have facilitated conceptual leaps in our understanding of long-range spatial regulation of stem cell fate. Congratulations, Jennifer, on this prestigious honor."
Cremins was awarded a NIH Director's Pioneer Award in 2021 and a Chan Zuckerberg Initiative (CZI) grant as part of the CZI Collaborative Pairs Pilot Project in 2020. The long-term goal of her lab is to understand the mechanisms by which chromatin architecture governs genome function. The ISSCR will recognize Cremins and her research in a plenary session during the ISSCR annual meeting on June 15.
Read the full press release on the ISSCR website.