The Chan Zuckerberg Initiative's Collaborative Pairs Pilot Project Award is part of its Neurodegeneration Challenge Network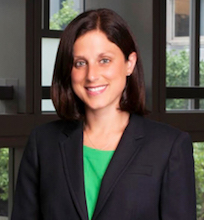 More than 30 inherited disorders are caused by the unstable expansion of repetitive DNA sequences, including Huntington's disease, ALS, Fragile X syndrome, and Friedreich's ataxia. Jennifer E. Phillips-Cremins, associate professor in Penn Engineering's Department of Bioengineering and in the Perelman School of Medicine's Department of Genetics, has shown another link between these disorders: the location of these expanding genes relative to the complicated folding patterns the genome exhibits to fit inside the nucleus of a cell.
Now, Phillips-Cremins is among 60 researchers taking part in a $4.5 Million Chan Zuckerberg Initiative project that aims to apply novel, interdisciplinary approaches toward investigating neurodegenerative disorders. The CZI Collaborative Pairs Pilot Project will fund 30 teams that combine clinical and basic science expertise and have at least one early- or mid-career researcher.
Read the full story on the Penn Engineering blog.