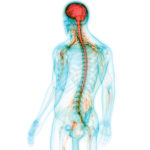 In a new publication in the journal npj Regenerative Medicine, a team of Penn researchers from the School of Dental Medicine and the Perelman School of Medicine "coaxed human gingiva-derived mesenchymal stem cells (GMSCs) to grow Schwann-like cells, the pro-regenerative cells of the peripheral nervous system that make myelin and neural growth factors," addressing the need for regrowing functional nerves involving commercially-available scaffolds to guide nerve growth. The study was led by Anh Le, Chair and Norman Vine Endowed Professor of Oral Rehabilitation in the Department of Oral and Maxillofacial Surgery/Pharmacology at the University of Pennsylvania School of Dental Medicine, and was co-authored by D. Kacy Cullen, Associate Professor in Neurosurgery at the Perelman School of Medicine at Penn and the Philadelphia Veterans Affairs Medical Center and member of the Bioengineering Graduate Group:
D. Kacy Cullen (Image: Eric Sucar)

"To get host Schwann cells all throughout a bioscaffold, you're basically approximating natural nerve repair," Cullen says. Indeed, when Le and Cullen's groups collaborated to implant these grafts into rodents with a facial nerve injury and then tested the results, they saw evidence of a functional repair. The animals had less facial droop than those that received an "empty" graft and nerve conduction was restored. The implanted stem cells also survived in the animals for months following the transplant.

"The animals that received nerve conduits laden with the infused cells had a performance that matched the group that received an autograft for their repair," he says. "When you're able to match the performance of the gold-standard procedure without a second surgery to acquire the autograft, that is definitely a technology to pursue further."
Read the full story and view the full list of collaborators in Penn Today.