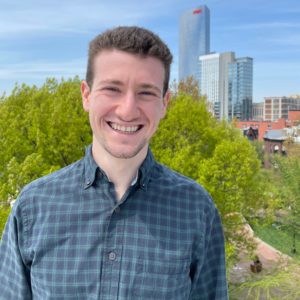 Congratulations to recent Penn Bioengineering graduate Gabriel DeSantis on being awarded a Fulbright grant for the 2021-22 academic year:
"The Fulbright Program is the United States government's flagship international educational exchange program, awarding grants to fund as long as 12 months of international experience.
'As an avenue for building cross-cultural understanding, the U.S. Student Fulbright Program is an unparalleled opportunity for American students to represent our country and our University across the world,' says Jane Morris, executive director of Penn's Center for Undergraduate Research and Fellowships, which supports applicants. 'We are so proud of all our Penn Fulbright students who will be contributing to this important mission through their study, research, and English teaching as Fulbrighters.'
Gabriel DeSantis, from Wellesley, Massachusetts, received his bachelor's degree from Penn Bioengineering in 2020 and will graduate in May with a master's degree in bioengineering from the School of Engineering and Applied Science. He was awarded a Fulbright to conduct research in Portugal at the International Iberian Nanotechnology Laboratory. There he will be creating a 3D bio-printed model to optimize the texture and nutritional profiles of cultivated meat. At Penn his academic interests included biology, food science, and sustainability, which he hopes to use to develop new systems of food production. On campus, DeSantis was a Penn Abroad Leader and board member of the Graduate Association of Bioengineers. He is a past chair of the Mask and Wig Club. He currently works as a research assistant for Allevi, a Philadelphia-based bioprinting company at Pennovation Works."
Read the full list of Fulbright awardees in Penn Today.