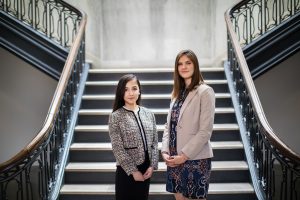 "Fruit hacking" startup Strella Biotechnology, founded by students and faculty advisors from the School of Engineering and Applied Science (SEAS) and the School of Arts and Sciences (SAS), tackles food waste by monitoring fruit ripeness. No stranger to media coverage, Strella and co-founder Katherine Sizov have previously been spotlighted for receiving the 2019 President's Innovation Prize, which included $100,000 of financial support, a $50,000 living stipend for both awardees, and a year of dedicated co-working and lab space at the Pennovation Center. 
Recently, Michael Birnbaum of the Washington Post spoke with Sizov about the hard work and flexibility it took to propel the company's successful scaling endeavors: Strella is now monitoring 15 percent of all U.S. apples.  
"Sizov, 24, wants to eliminate food waste one fruit at a time. In central Washington, it was an effort that required almost as much quick footwork as the épée squad she captained as a championship fencer in college. One moment, she was trying to beam the sensor's WiFi signal through the reception black hole of millions of apples, which cause transmission issues because of their high water content. The next, she was sitting down with laconic apple growers with orchards planted generations ago, trying to convince them she could help them avoid wasted fruit. By day's end, she might be folding her 6-foot frame into the passenger seat of a rental car, balancing her laptop on her knees and trying to win over Silicon Valley investors on Zoom calls using skills she had picked up partly by watching YouTube tutorials."
Read Michael Birnbaum's "Fighting food waste, one apple at a time" for more about Sizov's motivation, background and process.
Strella Biotechnology was founded by Penn alumna Katherine Sizov (Bio 2019) and was initially developed in the George H. Stephenson Foundation Educational Laboratory, the biomakerspace and primary teaching lab of the Department of Bioengineering. Sizov and Penn Bioengineering alumna Malika Shukurova (BSE 2019) won a President's Innovation Prize in 2019. Read more BE blog stories featuring Strella Biotechnology.