by Elisa Ludwig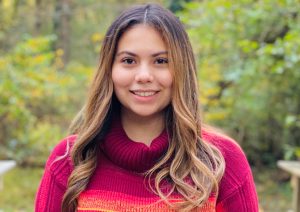 The process of discovery sometimes starts with a hunch. Maria Ovando arrived at Penn Engineering with an affinity for math and science, extensive experience volunteering at her local health clinic and an assumption that she was preparing for a career in medicine. She was drawn to Penn Engineering because of the flexibility in the curriculum and the ability to both tailor her course of study and pursue cross-disciplinary subjects.
As a pre-med student, bioengineering seemed to be the natural choice for a major, but during her freshman year, Ovando found that she genuinely enjoyed bioengineering as a discipline in its own right, and only then did her future goals come into view.
"I've discovered that I have a passion for research, working on low-cost devices that can have a direct impact on individuals," she says.
One of the most important opportunities she's had at Penn is her work with Dr. Michelle J. Johnson at the Rehabilitation Robotics Lab in the Perelman School of Medicine. There, Ovando has been working to improve aspects of the Community-based Affordable Robot Exercise System, which helps stroke patients with lower extremity impairment. She's also worked on a project that involved analyzing and reevaluating data in the early detection of cerebral palsy in infants. As an undergraduate, she found it both meaningful and moving to have a role in this groundbreaking research.
Read the full story in Penn Engineering today.