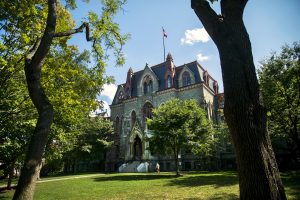 A recent piece in the Daily Pennsylvanian highlights Penn Bioengineering's new Applicant-Support Program. Introduced for the Fall 2020 admissions cycle, this new program supports the department's mission of increasing diversity, equity, and inclusion by pairing Ph.D. applicants to current doctoral students who will serve as a mentors to help navigate the process, give feedback on application materials, and provide other support to prospective students.
As Jason Andrechak, President of Penn's Graduate Association of Association of Bioengineers (GABE) chapter, explains in the DP's profile: "A lot of what a successful application looks like at this level is just knowing what a successful application looks like." This and other new policies and programs implemented by GABE and Yale Cohen, Professor of Otorhinolaryngology, Neuroscience and Bioengineering and BE's current Graduate Group Chair, seek to support applications from "underserved or underrepresented communities."
Read the full story in the Daily Pennsylvanian.