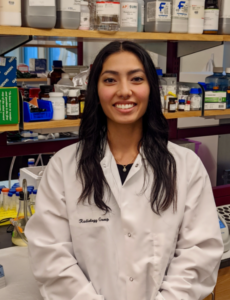 Cosette Tomita, a master's student in Bioengineering, spoke with Penn Engineering Graduate Admissions about her research in cellular therapy and her path to Penn Engineering.
"What were you doing before you came to Penn Engineering? 
After college I wanted to get some industry experience before going to graduate school, so I spent a year working for a pharmaceutical company in New Jersey. I learned a lot—but mostly I learned that I wanted to go back into academia. So I was looking for a more research-oriented position to boost my graduate school applications, and I found a position at Penn's cyclotron facility. Shortly after that, I applied to the master's program. I'm still working at the cyclotron, so I'm doing the program part time. 
How has your experience in the program been so far? 
I love the research I'm doing here. I love the collaboration we have and the fact that I'm able to work with whoever I want to. And I can only say good things about my PI, Robert Mach. He's a very busy man, but he makes time for his people. And he recognizes when somebody has a lot on their plate and he will go to bat for that person.
What's your research all about? 
The focus of my PI's lab is on neurodegenerative diseases and opiate use, so we're looking to make imaging agents and antagonists that can help with the opioid crisis. 
For my project, I wanted to look at treating neurodegenerative disease from the perspective of cellular therapy. My PI doesn't have that expertise, so when I came to him with this idea, he said I should talk to Mark Sellmyer in the bioengineering department. He does a lot of cellular therapies, cell engineering, protein engineering and things of that nature. So his lab is more biological. 
I don't have a grant for my research, so my advisors are supporting it out of their own pockets. They could have said, no, you need to work on this project that's already going on in the lab. But they gave me the intellectual freedom to do what I wanted to do."
Read the full Q&A at the Penn Engineering Graduate Admissions website.
Mark Sellmeyer is Assistant Professor of Radiology in the Perelman School of Medicine and member of the Penn Bioengineering Graduate Group.