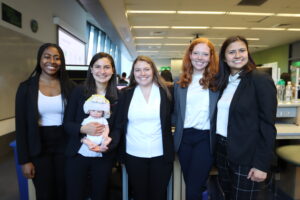 Technical.ly Philly journalist Sarah Huffman recently paid another visit to Penn Bioengineering's George H. Stephenson Foundation Educational Laboratory & Bio-MakerSpace, this time for the 2023 Senior Design Expo. Following the annual Senior Design presentations held in the Singh Center for Nanotechnology, in which graduating fourth-year undergraduates in Bioengineering presented their final capstone projects, the Expo offered an opportunity for the teams to do live demonstrations (or demos) for the department's internal competition judges and the wider BE community.
"In the course of the day, students presented the challenge they were aiming to solve and the technical details of their solution. After, demonstrations sought to find if the devices really worked.

'[It's] looking at the device as a whole, because quite frankly, you can say whatever you want at a presentation, does it really work,' said [BE Labs Director Sevile] Mannickarottu. 'You can make it look pretty, "but does it work?" is the big question.'"
Read "At Penn's Senior Design Expo, students aimed to solve healthcare issues with tech devices" in Technical.ly Philly.
To learn more about the 2023 Senior Design projects, including pitch videos, abstracts, full presentations and awards, visit the Penn BE Labs Website.
Read about Technical.ly's first visit to the Penn BE Labs here.