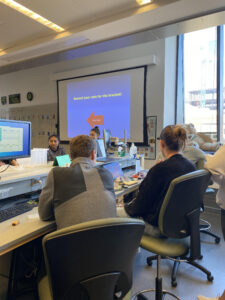 The George H. Stephenson Foundation Educational Laboratory & Bio-MakerSpace (aka the Penn BE Labs) played host last week to Sarah Huffman, a local journalist writing for Technical.ly Philly. During her visit to the lab, she chatted with third year undergraduates working on their ECG devices for monitoring breathing and heart rates, and senior design students applying all they've learned in their previous three years to their graduation capstone projects. She also got a chance to discuss the classes and learn about the lab's vision to be a bio-makerspace with Sevile Mannickarottu, Director of Educational Labs for BE, and with David Issadore, Associate Professor in Bioengineering and in Electrical and Systems Engineering and professor of the third year spring lab course:
Journalist Sarah Huffman interviews BE 3100 professor David Issadore.

"'The students all come here and they hang out and they build stuff,' said David Issadore, associate professor of bioengineering and electrical and systems engineering. 'This junior-level course is kind of an entry point for their senior design. So next year, all these students are going to take on new projects, and then they all kind of hang around here and they build incredible stuff.'"
The profile of the BE Labs is part of Technical.ly's 2023 Universities Month, a series focusing on the latest trends and tech in higher education.
Read "Peek into an afternoon at Penn's collaborative bioengineering lab and makerspace" in Technical.ly.
Read more stories featuring the Penn BE Labs.