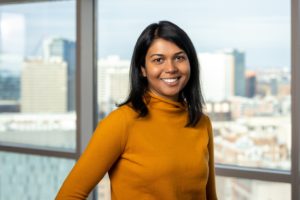 Eight researchers from the Perelman School of Medicine have received research grants designed to invest in high-risk, high-reward projects.
Bushra Raj, Assistant Professor of Cell and Developmental Biology in the Perelman School of Medicine and member of the Penn Bioengineering Graduate Group, was one of three Penn winners of the NIH Director's New Innovator Award for independent projects developed by early-career investigators. More additional Penn scientists who received NIH Director's Transformative Research Award for a project focusing on cancer research.
Raj's project focuses on "testing a novel technology that uses CRISPR/Cas gene-editing tools to genomically record inputs from two signaling pathways in the developing zebrafish brain."
Established in 2009, the Transformative Research Award promotes cross-cutting, interdisciplinary science and is open to individuals and teams of investigators who propose research that could potentially create or challenge existing paradigms.
Read the full list of grant recipients in Penn Medicine News.