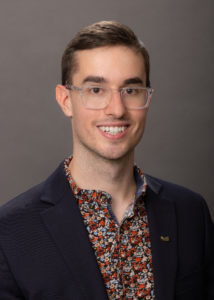 Marshall Padilla, a  NIDCR T90 postdoctoral fellow within the Center for Innovation & Precision Dentistry (CiPD) was selected for the American Association for Dental, Oral, and Craniofacial Research (AADOCR)'s Mentoring an Inclusive Network for a Diverse Workforce of the Future (AADOCR MIND the Future) program. CiPD is a collaborative center between Penn Engineering and Penn Dental Medicine and is directed by Hyun Michel Koo, Professor in Orthodontics and member of the Penn Bioengineering Graduate Group:
"Padilla came to the CiPD training program earlier this year with a Ph.D. in Chemistry from the University of Wisconsin-Madison. He is currently a postdoctoral fellow in the lab of Dr. Michael J. Mitchell of Penn's Department of Bioengineering, where his research focuses on developing new materials to enhance the efficacy and safety of biological therapeutics. While passionate about research, he also has a strong interest in developing mentoring relationships and in teaching. At Wisconsin, Marshall earned a certificate in research, teaching, and learning, in which he conducted a research project on developing positive metacognitive practices in introductory organic chemistry. Additionally, he taught a course on mentoring in a research setting, and is passionate about promoting diversity and inclusiveness in biomedical sciences."
Read the full story in Penn Dental Medicine News.