By Summer Kollie, Health & Societies '19; Amber Figueroa, Biology '21; and Bosede Ajiboye, Psychology '19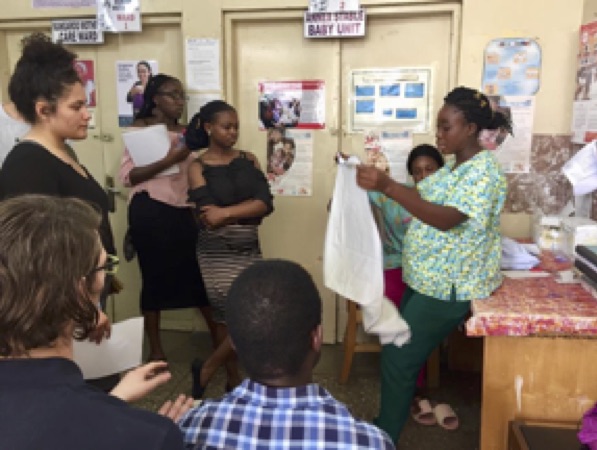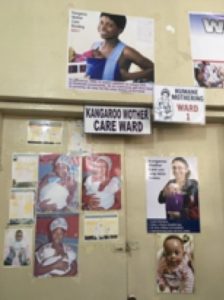 Today, we made a visit to the premature infants and Kangaroo Mother Care (KMC) wing of Komfo Anokye Teaching Hospital (KATH). Our visit was very informative. The overall goal for premature babies was for mothers to engage in KMC. When talking to the doctor in the premature clinic, she mentioned that, on average, a baby would stay in the clinic, where there are incubators and CPAP machines, for about one week before being referred to the KMC ward. In some cases, babies who have more severe cases might stay for a month or longer. The goal of the premature clinic was to stabilize the baby. An infant was stable when they no longer needed supplied oxygen and IV fluids, they had no more difficulties in breathing, and they were able to take food, as in breastmilk, through their mouths. After the baby was stable, then they were moved to the maternal ward, where the mother could administer KMC.
Kangaroo Mother Care (KMC) is an efficient way to take care of premature infants without using an incubator. With skin-to-skin contact, the baby is placed on the mother's chest between her breast. Then, two to three blankets are wrapped securely around the baby to keep them warm.
At the KMC ward, a nurse demonstrated on herself how a mother would tie her infant onto her chest. Th nursey emphasize for mothers to be able to perform the process of tying the blanket on their own. In this ward, KMC is administered 24/7. The only time a mother gets a break is if she needs to use the bathroom or to buy food. Fathers and other relatives only assist in this process for short periods when the mother needs a break or when the mother has more than one baby, as in twins or triplets, and cannot physically carry more than one on her chest.