By Shihan Dong, Biotechnology MS '19; Xuanjie (Lucas) Gong, Biotechnology MS '19; and Princess Aghayere, Health & Societies '19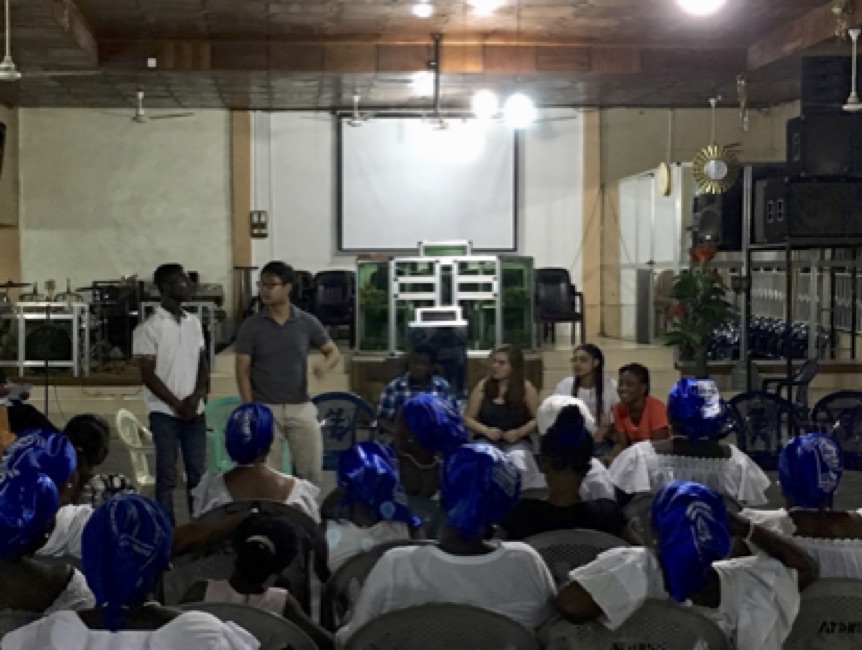 As usual, today we left for to visit the psychiatric ward of the Komfo Anokye Teaching Hospital (KATH), the biggest hospital in Kumasi and the second biggest in Ghana. However, when we arrived at the KATH it turned out that the clinic wasn't ready for our visit, because there was a mix-up with the letter sent to inform them of our visit. So, we went back to School of Public Health to access to internet to let everyone research  and work on their projects.
In the evening we returned to Christ Apostolic Church, a church for women who are poorly educated and mostly petty traders. Last Tuesday, we spoke to inform them about nutrition. This time, presentation was delivered by Ethan Zhao, Sheldon Amoo-Mitchual, Rebecca Zappala and Yasmina Al Ghadban, with KNUST medical students Kwabena Asoka Sarpong and Muti Agyekum as translators.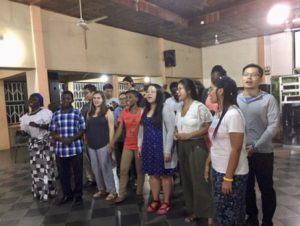 Since last time there was a woman asked us to talk about cervical cancer, we decided talk about that as well as about cancer in general this time. At first, Ethan introduced the cancer was the result of cellular instructions being modified, and that there are ways to either protect those instructions or increase the risk of modification. Next, Sheldon talked about the importance of nutrition in cancer prevention, as introduced in last week, as well as the importance of good habits like exercising regularly and not smoking. Then, Rebecca introduced prevent cervical cancer and how to help prevent it through things like HPV vaccines and diagnosing it at early stages through Pap smear test. Finally, Yasmina covered the breast cancer, another cancer prevalent among women. She introduced that everyone is at risk of it and some certain factors would increase the risk like family breast cancer history. She taught them the self-exam, and recommended that women over 40 get a mammogram annually. During the question section, the audience was really active to ask questions, so much so that the other group that was supposed to present on pregnancy, Amber Figueroa, Bosede Ajiboye, and Summer Kollie had to be rescheduled to present next week. The churchgoers were curious about things like how and how often they should wash genitals area, as well as how to take care of their pre-pubescent daughters. They also wanted to clarify some rumors they were told about the causes of cancer, such as if things like phone vibration, or putting a phone to the left ear could cause cancer.
After the presentation, we sang a simple church song in Twi, Asem papa bia mate ne s3 oye oye, which we had prepared before coming. The churchgoers were delighted and they joined in, creating beautiful harmonies as our voices combined.