Vision of the Future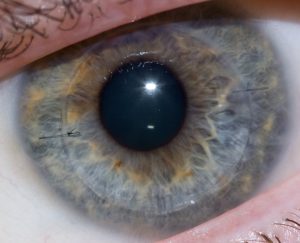 Disorders of or damage to the cornea — the clear covering over the lens of the eye — can be threatening to vision, and for the last century, corneal transplantation has been a cornerstone of treatment for these conditions. However, corneal transplants are complicated by two key facts: first, as with virtually all transplant procedures, donor organs are in short supply; and second, rejection is common, and recipients of transplants face repeated procedures or a lifetime of steroid eyedrops to prevent rejection.
One way of obviating these issues is the use of synthetic materials, which can now be manufactured with three-dimensional printing. In a new study from scientists at the 
Institute of Genetic Medicine at Newcastle University in the UK, to be published this summer in Experimental Eye Research, synthetic corneal tissue was 3D printed using a bioink loaded with encapsulated keratocytes (corneal cells), in combination with computer modeling based on actual corneas. The study is only proof to show that printing a biological replicate of the cornea is possible, but it lays the groundwork for future studies in animals.
Engineering Brain Recovery
One of the reasons why stroke is such a damaging event is the inability of damaged brain tissue to regenerate. Angiogenesis, the growth of new blood vessels, can help to regenerate brain tissue but properly guiding the process of angiogenesis is rather difficult.
However, a new report in Nature Materials indicates success using an injectable biogel for this purpose. In the report, a team led by Tatiana Segura, PhD, Professor of Biomedical Engineering at Duke with colleagues at UCLA, details its engineering of an injectable gel using nanoparticles consisting of heparin (a blood-thinning agent to prevent unwanted blood clotting) and vascular endothelial growth factor (VEGF) to stimulate brain regeneration. After injecting the gel in a mouse model of stroke, the mice showed a significant improvement in recovery compared to animals not receiving the engineered nanomaterial.
Here at Penn, D. Kacy Cullen, PhD, Research Associate Professor of Neurosurgery in the Perelman School of Medicine, has been investigating the use of implantable tissue-engineered brain pathways to treat and perhaps reverse the effects of neurodegnerative diseases like Parkinson's disease. Penn Today has the story, with video of Dr. Cullen and photos and quotes from several of our own Bioengineering students.
Streamlining Environmental Bioengineering
Outside of the health sciences, bioengineering has applications in diverse fields, including energy development and environmental protection. Biofuels are one application for bioengineering that received a major boost recently. In an
article published in 
NPJ Systems Biology and Applications, 
engineers from the US Department of Energy's Lawrence Berkeley National Laboratory describe how they used machine learning to better predict the ability of engineered microbes to produce biofuel. With this information, they can then better adjust fuel-producing microbial pathways to maximize production. The machine learning model is a significant improvement over earlier, traditionally algorithmic approaches requiring complex differential equations. The time saved could, over generations of adjustments, result in a significant increase in output.
More on Pilots
Last week,
we discussed
how the cognitive load borne by airline pilots differs between simulated and real flight. Other scientists, it turns out, are looking at ways that pilots — in particular, fighter pilots — can overcome fatigue. With more than $1 million in grants from the US Department of Defense, Merhavan Singh, PhD, Dean of the Graduate School of Biomedical Sciences at the University of North Texas Health Science Center, and  Kai Shen, PhD, Associate Professor in the  Department of Chemistry and Forensic Science at Savannah State University in Georgia,
are investigating compounds targeting the sigma 1 receptor
, which the scientists believe could combat fatigue and also have neuroprotective effects if activated. This is particularly important among fighter pilots serving in conflict, who are often sleep deprived but must remain alert during missions.
People and Places
Having achieved success in its mission, the University of Alabama at Birmingham's PREP Scholars Program, which supports underrepresented minority students in pursuing graduate study in bioengineering and biomedical engineering,
has received an additional $1.8 million
in support from the National Institutes of Health. The money will enable the funding of 40 students over the next five years.
Jeffrey Collins Wolchok, PhD, and Kartik Balachandran, PhD, both associate professors in the Department of Biomedical Engineering at the University of Arkansas,
have received a $375,000 grant
from the National Science Foundation to study the long-term effects of multiple concussions on the brain. With the increased emphasis in the scientific community and media on traumatic brain injury and chronic traumatic encephalopathy, including among former athletes, the two scientists will develop brain on a chip technology to examine the issue.
Finally, this week, the Best College Reviews website
published its Top 10 list
of online Master's programs in biomedical engineering. Purdue University's program finished in first place, with appearances on the list by Colorado State, UC Riverside, Stevens Tech, and Worcester Tech.