by Melissa Pappas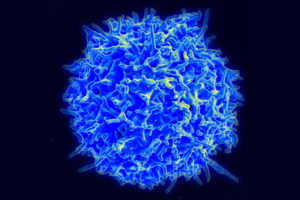 Our bodies are equipped with specialized white blood cells that protect us from foreign invaders, such as viruses and bacteria. These T cells identify threats using antigen receptors, proteins expressed on the surface of individual T cells that recognize specific amino acid sequences found in or on those invaders. Once a T cell's antigen receptors bind to the corresponding antigen, it can directly kill infected cells or call for backup from the rest of the immune system.
We have hundreds of billions of T cells, each with unique receptors that recognize unique antigens, so profiling this T cell antigen specificity is essential in our understanding of the immune response. It is especially critical in developing targeted immunotherapies, which equip T cells with custom antigen receptors that recognize threats they would otherwise miss, such as the body's own mutated cancer cells.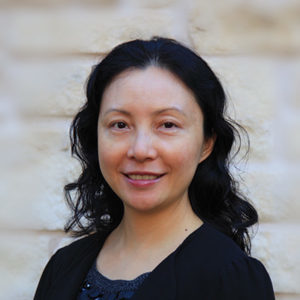 Jenny Jiang, Peter and Geri Skirkanich Associate Professor of Innovation in Bioengineering, along with lab members and colleagues at the University of Texas, Austin, recently published a study in Nature Immunology that describes their technology, which simultaneously provides information in four dimensions of T cell profiling. Ke-Yue Ma and Yu-Wan Guo, a former post doc and current graduate student in Jiang's Penn Engineering lab, respectively, also contributed to this study.
This technology, called TetTCR-SeqHD, is the first to provide such detailed information about single T cells in a high-throughput manner, opening doors for personalized immune diagnostics and immunotherapy development.
There are many pieces of information needed to comprehensively understand the immune response of T cells, and gathering all of these measurements simultaneously has been a challenge in the field. Comprehensive profiling of T cells includes sequencing the antigen receptors, understanding how specific those receptors are in their recognition of invading antigens, and understanding T cell gene and protein expression. Current technologies only screen for one or two of these dimensions due to various constraints.
"Current technologies that measure T cell immune response all have limitations," says Jiang. "Those that use cultured or engineered T cells cannot tell us about their original phenotype, because once you take a cell out of the body to culture, its gene and protein expression will change. The technologies that address T cell and antigen sequencing with mass spectrometry damage genetic information of the sample. And current technologies that do provide information on antigen specificity use a very expensive binding ligand that can cost more than a thousand dollars per antigen, so it is not feasible if we want to look at hundreds of antigens. There is clearly room for advancement here."
The TetTCR-SeqHD technology combines Jiang's previously developed T cell receptor sequencing tool, TetTCR-Seq, described in a Nature Biotechnology paper published in 2018, with the new ability of characterizing both gene and protein expression.
Read the full story in Penn Engineering Today.