by Christina Hernandez Sherwood
Breaking the code of the immune system could provide a new fundamental way of understanding, treating, and preventing every type of disease. Penn Medicine is investing in key discoveries about immunity and immune system function, and building infrastructure, to make that bold idea a reality.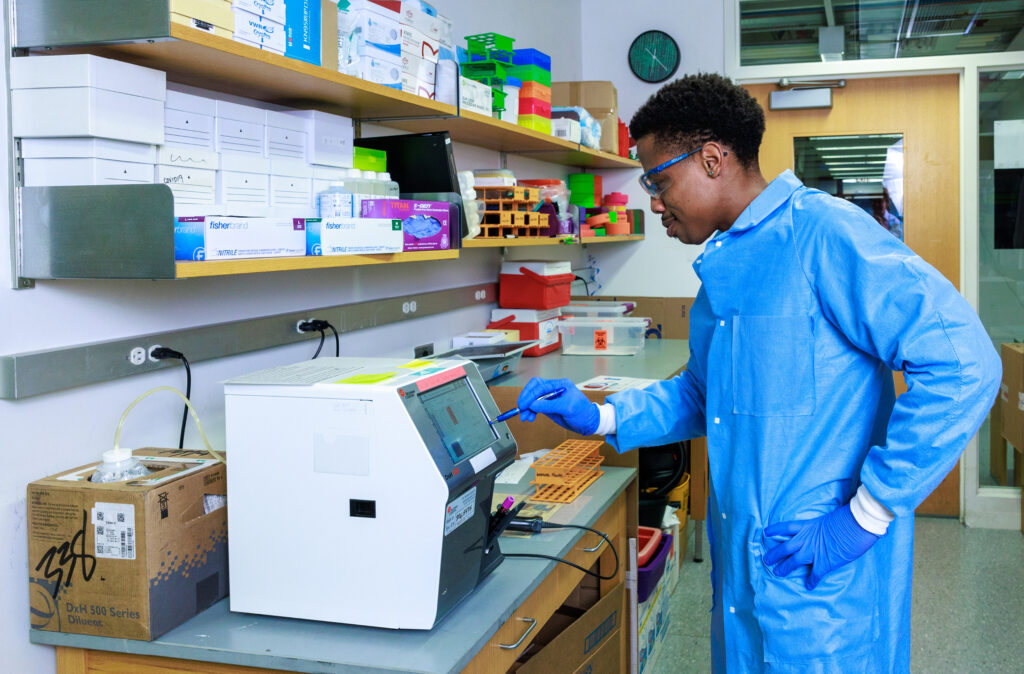 This grandfather lives with primary progressive multiple sclerosis (MS), an autoimmune disorder that he controls with a medicine that depletes his body of the type of immune cells that make antibodies. So while he has completed his COVID-19 vaccine course, his immune system function isn't very strong—and the invitation has arrived at a time when COVID-19 is still spreading rapidly.
You can imagine the scene as an older gentleman lifts a thick, creamy envelope from his mailbox, seeing his own name written in richly scripted lettering. He beams with pride and gratitude at the sight of his granddaughter's wedding invitation. Yet his next thought is a sober and serious one. Would he be taking his life in his hands by attending the ceremony?
"In the past, all we could do was [measure] the antibody response," says Amit Bar-Or, the Melissa and Paul Anderson President's Distinguished Professor in Neurology at the Perelman School of Medicine, and chief of the Multiple Sclerosis division. "If that person didn't have a good antibody response, which is likely because of the treatment they're on, we'd shrug our shoulders and say, 'Maybe you shouldn't go because we don't know if you're protected.'" 
Today, though, Bar-Or can take a deeper dive into his patients' individual immune systems to give them far more nuanced recommendations. A clinical test for immune cells produced in response to the COVID-19 vaccine or to the SARS-CoV-2 virus itself—not just antibodies—was one of the first applied clinical initiatives of a major new Immune Health® project at Penn Medicine. Doctors were able to order this test and receive actionable answers through the Penn Medicine electronic health record for patients like the grandfather with MS.
"With a simple test and an algorithm we can have a very different discussion," Bar-Or says. A test result showing low T cells, for instance, would tell Bar-Or his patient may get a meaningful jolt in immunity from a vaccine booster, while low antibody levels would suggest passive antibody therapy is more helpful. Or, the test might show his body is already well primed to protect him, making it reasonably safe to attend the wedding.
This COVID-19 immunity test is only the beginning.
Physicians and scientists at Penn Medicine are imagining a future where patients can get a precise picture of their immune systems' activity to guide treatment decisions. They are working to bring the idea of Immune Health to life as a new area of medicine. In labs, in complex data models, and in the clinic, they are beginning to make sense out of the depth and breadth of the immune system's millions of as-yet-undeciphered signals to improve health and treat illnesses of all types. 
Penn Medicine registered the trademark for the term "Immune Health" in recognition of the potential impact of this research area and its likelihood to draw non-academic partners as collaborators in its growth. Today, at the south end of Penn's medical campus, seven stories of research space are being added atop an office building at 3600 Civic Center Blvd., including three floors dedicated to Immune Health, autoimmunity, and immunology research.
The concept behind the whole project, says E. John Wherry, director of Penn Medicine's Institute for Immunology and Immune Health (I3H), "is to listen to the immune system, to profile the immune system, and use those individual patient immune fingerprints to diagnose and treat diseases as diverse as immune-related diseases, cancer, cardiovascular disease, Alzheimer's, and many others."
The challenge is vast. Each person's immune system is far more complex than antibodies and T cells alone. The immune system is made of multiple interwoven layers of complex defenders—from our skin and mucous membranes to microscopic memory B cells that never forget a childhood infection—meant to fortify our bodies from germs and disease. It is a sophisticated system that learns and adapts over our lifetimes in numerous ways, and it also falters and fails in some ways we understand and others that remain mysterious. And each person's intricate internal battlefield is in some way unique.
The immune system is not just a set of defensive barricades, either. It's also a potential source of deep insight about a person's physiological functioning and responses to medical treatments.
"The immune system is sensing and keeping track of basically all tissues and all cells in our body all the time," Wherry says. "It is surveying the body trying to clean up any invaders and restore homeostasis by maintaining good health."
"Our goal is to essentially break the code of the immune system," says Jonathan Epstein, executive vice dean of the Perelman School of Medicine and chief scientific officer at Penn Medicine. "By doing so, we believe we will be able to determine your state of health and your response to therapies in essentially every human disease."
Read the full story in Penn Today.