Pushing the Limits of Imaging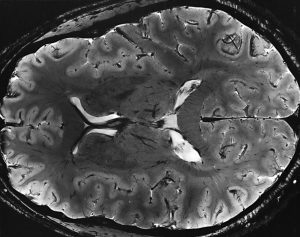 Since the late 1970s with the advent of computed tomography (CT), medical imaging has grown exponentially. Magnetic resonance imaging (MRI) offers some of the clearest pictures of human anatomy and pathology, particularly as the strength of the magnetic field used (measured in units called Teslas) increases. However, MRI machines are expensive, and the costs increase as one uses a machine with higher field strength to 'see' the human more closely. Therefore, it is often more useful (and certainly less expensive) to modify existing MRI technology on hand, rather than acquire a new machine.
A recent example is the work of Tamer Ibrahim, PhD, Associate Professor of Bioengineering at the University of Pittsburgh. Dr. Ibrahim used a series of multiple NIH grants to develop a coil system for Pitt's 7T-MRI — one of only approximately 60 worldwide — enabling it to more accurately image the brain's white matter. Dr. Ibrahim is interested in seeing how hyperintensity in the white matter is related to depression, which is one of the highest-burden but least-discussed diseases in the world. Called a "tic-tac-toe" radiofrequency coil setting, the device that Dr. Ibrahim created is a network of antennas fitted to the head that minimize concerns such as coil heating and radiofrequency intensity losses, as well as safety concerns.
Dr. Ibrahim has more NIH funding on the way to continue optimizing his device and apply it in other psychiatric and neurological disorders. Rather than purchasing a new MRI machine with higher field strengths to achieve this image quality, Dr. Ibrahim's coil design can be used on existing machines. One possible outcome is more clinicians using this new coil to study how changes in the brain's white matter structure occur in a broad range of brain diseases, leading to both earlier detection anfor ad more effective treatment.
Smart Shunt for Hydrocephalus
Hydrocephalus, once more commonly known as "water on the brain," is a condition marked by abnormal accumulation of cerebrospinal fluid (CSF) in the skull. If unchecked, the accumulation of fluid will create dangerous pressures in the brain that can result in brain damage. Hydrocephalus occurs in one in every 1,000 births, and nearly 400,000 adults in the US suffered at least on episode of hydrocephalus. For both infants and adults, hydrocephalus is often treated surgically with the installation of a shunt to channel the excess CSF out of the cranium. These shunts are simple but effective devices that operate mechanically. However, since they're entirely mechanical, they fail over time. Being able to determine that such a failure was imminent could allow patients to receive a replacement shunt before complications arise.
To meet this clinical need, a group of scientists at the University of Southern California (USC)  updated existing shunt systems with microsensing technology, creating a "smart shunt" that can tell clinicians how an installed shunt is functioning and alert the clinician that a replacement is needed. The group, including Ellis Fan-Chuin Meng, PhD, Gabilan Distinguished Professorship in Science and Engineering, Dwight C. and Hildagarde E. Baum Chair, and Professor of Biomedical Engineering and Electrical Engineering-Electrophysics, has created a start-up called Senseer to produce these smart shunts.
The shunt currently measures pressure, flow, and occlusion using miniature microelectronics sensors. If device approval comes, the company hopes to move on to developing smart sensors for other organ systems.
DNA-based Drug Testing
Drug and alcohol testing is a controversial topic, partly because of the balance between individual rights to use legal drugs and potential for societal harm if these drugs are abused or if patients transition into illegal drug use and dependence. Inventing technology to determine when, and how much, a person has been drinking or using drugs (including tobacco) would probably increase, rather than decrease, the controversy involved in the topic.
New technology reported recently adds a new element to this discussion. According to Robert Philibert, MD, PhD, Professor of Psychiatry at the University of Iowa and an adjunct faculty member in the Department of Biomedical Engineering, his company's tests, which rely on epigenetic markers of substance use, could be used, for example, to inform a primary care physician about the actual history of substance use, rather than relying solely on patients' self-reported use.

Dr. Philibert's tests are currently pending approval by the Food and Drug Administration. Marketing for the products will begin in the coming weeks.
People and Places
Recognizing the changing priorities in engineering and the growing role of data sciences, Boston University has decided to adapt its curriculum by adding data science requirements for all majors. According to John White, PhD, Chair of the Department of Biomedical Engineering, "Advances in data sciences and computing technology will allow us to make sense of all these data."
The Biomedical Science Program at Howard Payne University in Brownwood, Texas, has received a $200,000 grant from  the James A. "Buddy" Davidson Charitable Foundation to endow a scholarship in Davidson's name, as well as to refurbish the program's Winebrenner Memorial Hall of Science.
Finally, we offer our congratulations this week to James C. Gee, PhD, Professor of Radiologic Science in Radiology at the University of Pennsylvania's Perelman School of Medicine and a Graduate Group faculty member in Penn's Department of Bioengineering.  Dr. Gee was named a fellow of the American Institute for Medical and Biological Engineering.