by Melissa Pappas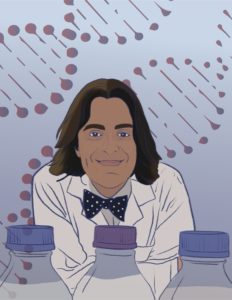 Michael Mitchell, J. Peter and Geri Skirkanich Assistant Professor of Innovation in the Department of Bioengineering, is one of this year's recipients of the National Science Foundation's CAREER Award. The award is given to early-career faculty researchers who demonstrate the potential to be role models in their field and invest in the outreach and education of their work.
Mitchell's award will fund research on techniques for "immunoengineering" macrophages. By providing new instructions to these cells via nanoparticles laden with mRNA and DNA sequences, the immune system could be trained to target and eliminate solid tumors. The award will also support graduate students and postdoctoral fellows in his lab over the next five years.
The project aligns with Mitchell's larger research goals and the current explosion of interest in therapies that use mRNA, thanks to the technological breakthroughs that enabled the development of COVID-19 vaccines.
"The development of the COVID vaccine using mRNA has opened doors for other cell therapies," says Mitchell. "The high-priority area of research that we are focusing on is oncological therapies, and there are multiple applications for mRNA engineering in the fight against cancer."
A new wave of remarkably effective cancer treatments incorporates chimeric antigen receptor T-cell (CAR-T) therapy. There, a patient's T-cells, a type of white blood cell that fights infections, are genetically engineered to identify, target and kill individual cancer cells that accumulate in the circulatory system.
However, despite CART-T therapy's success in treating certain blood cancers, the approach is not effective against cancers that form solid tumors. Because T-cells are not able to penetrate tumors' fibrous barriers, Mitchell and his colleagues have turned to another part of the immune system for help.
Read the full story in Penn Engineering Today.