by Brandon Lausch
The award from Japan's oldest private university honors outstanding contributions to medicine and life sciences.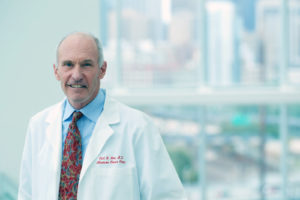 Carl June, the Richard W. Vague Professor in Immunotherapy in the department of Pathology and Laboratory Medicine in the Perelman School of Medicine and director of the Center for Cellular Immunotherapies at Penn's Abramson Cancer Center, has been named a 2022 Keio Medical Science Prize Laureate. He is recognized for his pioneering role in the development of CAR T cell therapy for cancer, which uses modified versions of patients' own immune cells to attack their cancer.
The Keio Medical Science Prize is an annual award endowed by Keio University, Japan's oldest private university, which recognizes researchers who have made an outstanding contribution to the fields of medicine or the life sciences. It is the only prize of its kind awarded by a Japanese university, and eight laureates of this prize have later won the Nobel Prize. Now in its 27th year, the prize encourages the expansion of researcher networks throughout the world and contributes to the well-being of humankind.
"Dr. June exemplifies the spirit of curiosity and fortitude that make Penn home to so many 'firsts' in science and medicine," said Penn President Liz Magill. "His work provides hope to cancer patients and their families across the world, and inspiration to our global community of physicians and scientists who are working to develop the next generation of treatments and cures for diseases of all kinds."
Read the full story in Penn Today.
June is a member of the Penn Bioengineering Graduate Group. Read more stories featuring June's research here.