Seeing and Repairing Damaged Heart Vessels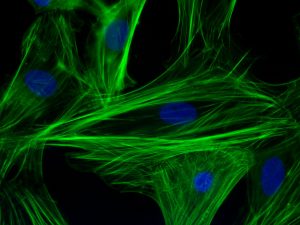 Two common diagnostic procedures in cardiology are intravascular ultrasound and cardiac angiography. These procedures are performed to quantify the amount of plaque affecting a patient's blood vessels. This information is vital because it helps to determine how advanced heart degree is, as well as guiding treatment planning and even the course of bypass surgery. However, the current technologies used for these procedures have significant limitations. Although conventional angiography can help to quantify the plaque burden, it does not offer any information about how much of the diameter of a vessel is blocked. Intravascular ultrasound is very good at quantifying plaque burden, but it is poor at identifying smaller features of compromised blood vessels.
One solution suggested to these issues is the combination of these imaging technologies into a single multimodal technique. Scientists led by Laura Marcu, Ph.D., professor of biomedical engineering at the University of California, Davis, invented a method combining intravascular ultrasound with multispectral fluorescence lifetime imaging (FLIM). As published in Scientific Reports, the device resembles a typical cardiac catheter but contains an optical fiber within the catheter that emits fluorescent light to characterize the plaque components before treatment.
Dr. Marcu and her colleagues tested their new device in live pigs and in human coronary arteries obtained from cadavers. The fluorescence data acquired with the device were comparable to those acquired with traditional fluorescence angiography. Moreover, the device could acquire data without having to administer a contrast agent, which can be dangerous in some patients due to allergies or weakened kidneys. The authors are currently seeking FDA approval to test their combined catheter in humans.
In addition to treating vessels before a heart attack can occur, there is new work showing how to efficiently repair heart tissue after a heart attack. A team of scientists collaborating among Clemson University, the Medical University of South Carolina,  the University of South Carolina, and the University of Chicago has received a $1.5 million grant from the National Institutes of Health to examine a treatment that combines stem cells with nanowires. The principal investigator on the grant is Ying Mei, Ph.D., who is assistant professor of bioengineering at Clemson. Dr. Mei's team mixes stem cells with nanowires so that they form spheroids that are larger than single cells and thus less likely to wash away. In addition, the investigators hope that the spheroids will mitigate the issue of the transplanted cells and the recipient's heart beating at different rhythms.  If successful, the group's treatment paradigm could be a major step forward in stem cell therapies and cardiology.
Look, Up in the Sky!
Drones became famous when deployed on battlefields for the first time a decade ago. Since then, they've been adopted as a technology for a variety of purposes. For example, Amazon introduced delivery drones almost a year ago, and it has plans to expand its drone fleet enormously in coming years. It was only a matter of time before engineers began to imagine medical applications for drones.
Engineers in Australia and Iraq recently investigated whether a drone could be used to monitor cardiorespiratory signals remotely. They reported their findings in BioMedical Engineering OnLine. The authors used imaging photoplethysmography (PPG), which employs a video camera to detect visual indications on the skin of heart activity. They also applied advanced digital processing technology due to the tendency of PPG to be affected by sound and movement in the area of detection. By testing the combined technologies in 15 healthy volunteers, the authors found that their data compared well with several traditional techniques for monitoring vital signs. Among the possible applications that the authors imagine for this technology is battlefield triage performed remotely using drones. In the meantime, they will seek to fine-tune the technology's abilities.
Concussion Distressingly Common
A research letter published in a recent issue of JAMA reports that a study conducted in Canada found that one in five adolescents sustained a concussion on at least one occasion. Of the approximately 20% of the study respondents who had experienced concussions, one quarter had suffered more than one. The letter is particularly relevant to the United States because of the similar popularity in Canada of contact and semicontact sports such as ice hockey and football. In addition, the study included more than 13,000 teenagers, lending significantly reliability to the conclusions.
Ending the Time of Cholera
Although largely eradicated in the developed world, cholera remains a major public health issue in the Global South and other parts of the developing world. The disease is a bacterial infection that causes severe gastrointestinal distress. Because the disease is transmitted via water, effective public sanitation is a core requirement of an effective prevention campaign.
One technology being deployed in this fight is a smartphone microfluidics platform that can determine the presence of the pathogen that causes cholera in a sample and report the data almost immediately to public health authorities. This technology was produced by a company called PathVis, which was spun off at Purdue University based on science produced the laboratories of Tamara Kinzer-Ursem, Ph.D., and Jacqueline Linnes, Ph.D., both of whom are assistant professors in Purdue's Weldon School of Biomedical Engineering. There are plans to test PathVis in Haiti and to expand it to detect other diseases in the future.
The Latest on CRISPR
CRISPR/Cas9 is the biggest bioengineering story to come along in some time — certainly the biggest in genetic engineering. But the mere fact that it's here and already being used in animals and in human cell lines doesn't mean that the story is over.  For instance, the Cas9 protein, which CRISPR deploys as part of its gene editing process, is currently developed most often using a viral vector. However, this system of delivery has certain drawbacks, not the least of which is a host immune system response when levels of the deployed viral vector reach the levels necessary for CRISPR to work.
A recent study published in Nature Biomedical Engineering reports on the successful use of gold nanoparticles to deliver Cas9. The new delivery system, called CRISPR-Gold, could obviate the need to use a viral vector as part of the CRISPR induction process. So far, the authors, led by University of California, Berkeley, bioengineers Irina Conboy, Ph.D., and Niren Murthy, Ph.D., have only used CRISPR-Gold in mice, but their successful results indicate that nonviral delivery with CRISPR is possible, so CRISPR could be used for more than previously thought.