by Priyanka Pardasani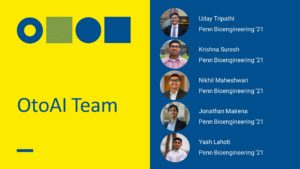 Each year, Penn Engineering's seniors present their Senior Design projects, a year-long effort that challenges them to test and develop solutions to real-world problems, to their individual departments. The top three projects from each department go on to compete in the annual Senior Design Competition, sponsored by the Engineering Alumni Society, which involves pitching projects to a panel of judges who evaluate their potential in the market. While the pandemic made this year's competition logistically challenging, students and organizers were able to come together virtually to continue the tradition.
This year's virtual format provided an opportunity for judges from around the country to participate in evaluating projects. Brad Richards, Director of Alumni Relations at Penn Engineering who helped plan the competition, was able to help recruit more than 60 volunteers to serve on the panel.
"The broad number of judges from varying industries made this competition incredibly meaningful, we will absolutely be integrating a virtual component to allow for more judges in the future."
Eighteen teams total, three from each department, virtually presented to the panel of judges, who awarded $2,000 prizes in four categories.
Technology & Innovation Prize
This award recognized the team whose project represents the highest and best use of technology and innovation to leverage engineering principles.
Winner: Team OtoAI
Department: Bioengineering
Team Members: Krishna Suresh, Nikhil Maheshwari, Yash Lahoti, Jonathan Mairena, Uday Tripathi
Advisor: Steven Eliades, Assistant Professor of Otorhinolaryngology in Penn's Perelman School of Medicine
Abstract: OtoAI is a novel digital otoscope that enables primary care physicians to take images of the inner ear and leverages machine learning to diagnose abnormal ear pathologies.
Read the full list of winners and watch their videos in Penn Engineering Today.