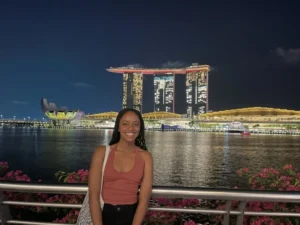 Wangari Mbuthia, Penn Bioengineering Class of 2025, shares her experience in Singapore while studying abroad with the Global Research and Internship Program (GRIP) at Penn. GRIP provides outstanding undergraduate and graduate students the opportunity to intern or conduct research abroad for 8 to 12 weeks over the summer. Participants gain career-enhancing experience and global exposure that is essential in a global workforce.
Engineering Research in Singapore
If someone would have told me this time last year that I would be doing an engineering research program in Singapore, I wouldn't have believed it. But rest assured here I am, two weeks in, and it has been an incredible experience.
Admittedly before coming to Singapore, basically everything I knew about this country could somewhat be summarized in that it was hot, beautiful and diverse. Before this I had never traveled to an Asian country and I was both excited and nervous about taking this trip. I was excited for food, sights and new experiences but I was also particularly nervous about being in a country where almost no one looks like me. Nevertheless, I decided to travel with an open mind, letting myself wander and wonder as I went and I thought I'd share some of my initial discoveries here.
Walking around Singapore it is clear that it is a place where many cultures have come together – Chinese, Malay, Indian and more – but I could probably count the number of Black people I saw on my two hands. This cultural landscape left me feeling very visible everywhere I went. But at the same time also somewhat invisible because for the most part, no one really made me feel like the odd one out. Rather, my presence only seemed to spark harmless (and sometimes comical) curiosity about where I was from or how I do my braids.
To my delight, the cultural diversity of Singapore is equally reflected in the food options. I can easily have access to almost any type of Asian cuisine at any given time and even quite a lot Western varieties too. I have eagerly been documenting the foods I try and rating them. One of my favorites has been a kaya (a type of sweet coconut spread) toast breakfast with soft-boiled eggs and teh-c (tea with evaporated milk). I also still need to try the unique, smelly fruit (so smelly it is not allowed on public transport), durian.
Another wonderful discovery was to see how Singapore lives up to its name, "garden city". Not only is the city filled with beautiful buildings each with their own personality, but the city landscape is so artfully integrated with nature inside and out. I have seen indoor gardens and waterfalls but also gorgeous waterfront and outdoor spaces that I could sit in for hours.
It's hard to believe how a country with such little land area and no natural resources has grown to be one of the richest cities in the world. Singapore truly feels like a place where so much is possible and that has been really special to see.