Ultrasound Helmet Provides Perioperative Images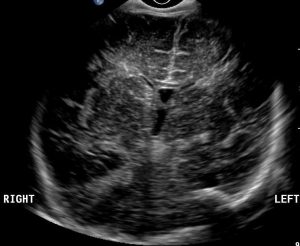 As we've mentioned here before, surgery on the brain is particularly difficult because of the limited visibility afforded to the surgical field and the complexity of the organ. Because the brain's gray matter can be easily damaged, a false move by a surgeon can have a lifetime of consequences. Better visualization during surgery could go a long way toward preventing accidental damage by the surgeon and minimize the removal of healthy brain tissue during tumor removal. However, ultrasound imaging of the brain has remained difficult because of the tendency of ultrasound waves to bounce off the skull.
To help solve this problem, a biomedical engineer at Vanderbilt University  developed an ultrasound helmet to create perioperative ultrasound images of the brain. It could also
provide a new variety of platform
for brain-machine interfaces. According to 
Brett Byram, PhD, Assistant Professor of Biomedical Engineering at Vanderbilt, the helmet will eventually combine ultrasound with electroencephalography (EEG) to simultaneously visualize the brain and record its activity.  Dr. Byram used a machine learning-based technique called aperture domain model image reconstruction (ADMIRE) to overcome the technical obstacle of ultrasound waves transmitting through the skull. 
Although the initial thought of how to apply this technology was surgical, Dr. Bryram believes that the ability to detect blood flow to different parts of the brain in real time using ultrasound could facilitate the creation of technologies that would use this blood flow information, smoothed using ADMIRE, and EEG data to communicate with implants or robotic extensions to perform tasks.
A Roach Motel for Cancer
One key to curing cancer is preventing its spread, called metastasis. The mechanisms underlying metastasis are becoming clearer after years of research. Typically, the spread of cancer is the result of cancerous cells shed by a tumor affecting another organ after traveling via the bloodstream or lymphatic system. Unfortunately, sometimes this shedding is caused by the surgical procedure to remove the tumor. Therefore, preventing metastasis requires preventing these cells from circulating during and after the surgical procedure.
At the University of Texas at Arlington (UTA), Liping Tang, Ph.D., Professor of Biomedical Engineering at the University of Texas at Arlington, has patented what he calls a "roach motel" for cancer cells. Dr. Tang's device, which is implanted under the skin, circulates cells of its own that attract circulating metastatic cells. The result of the device is the trapping of the cancer cells within the device and preventing them from traveling further. In vitro testing has been quite successful in a variety of cancers. Preclinical testing in animals will be the next step.
Injectable Alcohol Sensor Could Augment Treatment Programs
A few weeks ago,
we detailed here
how a scientist is developing DNA-based drug and alcohol screening tests. Recently a group of bioengineers at the University of California–San Diego (UCSD), led by Drew A. Hall, PhD, Assistant Professor of Electrical and Computer Engineering and an affiliate professor in the Department of Bioengineering at UCSD,
has developed an injectable biosensor
that can communicate blood alcohol levels to a wearable device. The sensor is a complementary metal–oxide semiconductor approximately 1 square millimeter in size and is designed for implantation under the skin surface. If in vivo testing proves successful, the system could be used as part of holistic approaches to preventing alcohol abuse among recovering alcoholics.
A Temperature-measuring Microscope
If you've used a microscope, then you've probably noticed that the samples viewed using microscopes are almost always on glass slides placed beneath the lens of the device. Now, in an article
recently published in Nature Communications
, an engineering team reports on their invention of a slide that can also measure temperature fluctuations in samples while maintaining microscopic imaging capability. Ruogang Zhao, PhD, assistant professor in the University at Buffalo Department of Biomedical Engineering, along with colleagues from our sister Departments of Electrical and Systems Engineering and Materials Science and Engineering here at Penn, coated a normal slide with 20-nanometer layers of gold activated by an external laser. Applications of the technology are numerous, and will be accelerated through mass production of slides, which the authors estimate would cost less than 10 cents each.
People and Places
Two large donations make our news this week. First, the University of Southern California
received a $10 million gift
from a retired ophthalmologist and his wife. The Dr. Allen and Charlotte Ginsburg Institute for Biomedical Therapeutics is being led by Mark S. Humayun, MD, PhD., Professor of Ophthalmology, Biomedical Engineering, and Cell and Neurobiology at USC. Across the country, the University of Maryland School of Medicine will
establish the Robert E. Fischell Center
for Biomedical Innovation with a $20 million gift from Robert Fischell, an inventor and holder of 200 patents. Distinguished University Professor and founding chair of the Fischell Department of Bioengineering William E. Bentley, PhD, will head the Fischell Center.
Also, it's May, which means graduate news. Two special congratulations are in order. First, we congratulate Rowan University in New Jersey for graduating its first cohort of three newly minted PhDs in Biomedical Engineering. Also at the University of California at D
avis, Tanishq Abraham will graduate next month with a Bachelor's degree in Biomedical Engineering. In case that doesn't sound like big news, bear in mind that Tanishq is only 14 years old. Tanisq will continue at Davis in studying in an MD/PhD program, which he hopes to finish before finishing his second decade of life.