by Brittany H. Scheid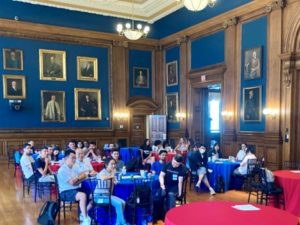 This year, the lineup of new student orientation activities included a new event:  the first bioengineering retreat for incoming Ph.D. graduate students.  Sitting in the historic Mitchell Hall at the College of Physicians, the 2022 Ph.D. cohort participated in a fun and educational half-day program that included a series of bonding activities, small-group conversations, and panel discussions. Current members of the Graduate Association of Bioengineers (GABE) planned the program to strengthen personal connections among students and to lend some advice to the newcomers as they embarked on their scholastic journey.
Prior to the retreat, participants read The Immortal Life of Henrietta Lacks by Rebecca Skloot, a work that delves into the human story of Henrietta Lacks, a Black woman from Virginia whose cancer cells were obtained for scientific study in the early 1950s without her knowledge. Today, "HeLa" cells have become one of the most significant tools in cell biology, enabling the development of polio vaccines, research into radiation effects, and even research on COVID-19. Together at the retreat, we discussed the intersection of ethics and scientific discovery, and reflected on our responsibility as scientists to consider the impact of our work beyond the immediate scientific question.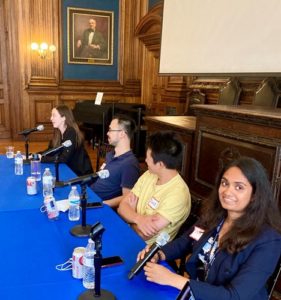 Current Ph.D. students volunteered their afternoons to share in two additional activities. Aoife O'Farrell, David Mai, Lasya Sreepada, and Mosha Deng imparted sage advice about using on-campus resources, handling advisor-advisee conflicts, and finding the best bites in Philly in the "Surviving the Ph.D. 101" panel discussion. Seven other students presented a series of flash talks about their research areas and musings on the best hypothetical mascot to represent their lab. The afternoon finished with an after-hours visit to the Mütter Museum, which holds an extensive and unique collection of anatomical specimens and antique medical equipment previously used for medical education.
If the WhatsApp group formed by the new cohort during the event is any indication, the retreat was an overall success! GABE looks forward to continuing the event in the future.
Brittany H. Scheid is a Ph.D. candidate studying Bioengineering in the lab of Brian Litt, Professor in Bioengineering and Neurology, and she is Co-President of GABE at Penn.