by Katherine Unger Baillie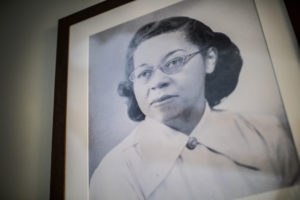 A grand split staircase inside the entrance to Leidy Labs invites visitors into the home of the School of Arts & Sciences' Biology Department. As students ascend or descend on their way to lab meetings and classes, a set of faces looks down on them—not the old, gilt-framed portraits that long hung in the stairwell, but 14 new photos in chestnut-colored wooden frames, depicting scientists who have close connections to Penn and the department. The gallery now highlights a more diverse suite of individuals, such as Emily Gregory, the first female teaching fellow at Penn, and Roger Arliner Young, the first African American woman to earn a doctorate in zoology.
The new art is part of a collective effort by the department, working with guidance from the University Curator's office, to rethink how portraiture and representation operate in the halls of their buildings. Many other University departments, schools, and leaders are in the process of undertaking similar initiatives, driven in part by the question: How can the walls of campus buildings better reflect the communities they serve?
"We have about 1,500 to 1,600 portraits in our collection," says University curator Lynn Marsden-Atlass. "Most of them are paintings by white men of white men. Since I have been the University curator, my goal has really been to bring in more visible diversity to our art collection. And now we've been getting increasing numbers of requests, like from the Biology Department, to take on some of this themselves."
The changes are meant to enhance a sense of inclusion for all at Penn, notably students, says history of art professor Gwendolyn DuBois Shaw. "There are certain contexts that students, in particular, want to assert that they belong," she says, "that they are not just at Penn, but they're of Penn."
Pushing against homogeny
At Penn and many institutions like it, portraits find their way onto walls through a variety of means. Portraits honor department chairs, deans, or others who have ascended to the top ranks of the academy. Sometimes they depict thought leaders in a field, who may or may not have a direct connection to the University. And occasionally donors write into their gift agreement that a portrait will be hung in recognition of their philanthropy.
The result, however, can mean building walls that function like memorials or museums, highlighting the past but not the current community, or a hoped-for future one.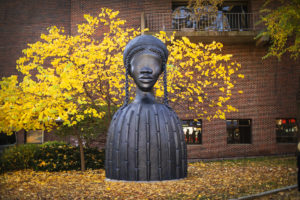 "I've had such an interesting set of conversations about what the walls of Penn are for," says Dani Bassett, a professor in the School of Engineering and Applied Science. "We as an institution have used the walls to display our history. But there's a sense in which the students who walk the halls feel that, especially when those faces are not diverse, this kind of art can be really oppressive, saying that, 'This space is not for me, it's only for white men.' So, the question is, how do we venerate our history without hurting our students? Are our walls the place for history or the place for the future?"
In June 2020, amid widespread Black Lives Matter protests, Bassett, together with Junhyong Kim, chair of the Biology Department, as well as other faculty and staff, addressed an open letter requesting institutional and financial support for diversifying portraiture at Penn.
"Many spaces at Penn reflect its history but do not reflect our core values of diversity and inclusion, nor do they accurately reflect the student, staff, and faculty bodies that comprise the Penn of today, or those we envision to comprise the Penn of tomorrow," they wrote. More than 430 members of the Penn community signed the letter.
Bassett has felt the need to act—and felt it most viscerally—when they interact with students, who have identified the issue of portraiture as an area that makes them feel uncomfortable, even unwelcome. For example, Bassett notes, one room in which students present their thesis proposals (and later defend their Ph.D. theses) is lined with portraits of white men. "The students walk into this room and think, 'Here is this space where I will be evaluated and I will be evaluated, most likely, by people who are not like me,'" Bassett says. "It was those conversations with students that made me realize this is so important to address."
Read the full story in Penn Today.
Dani Bassett is the J. Peter Skirkanich Professor, with appointments in the Departments of Bioengineering and Electrical & Systems Engineering in the School of Engineering and Applied Science, the Department of Physics & Astronomy in the School of Arts & Sciences, and the Departments of Neurology and Psychiatry in the Perelman School of Medicine.