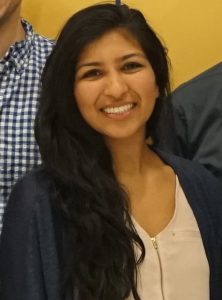 Next up in the Penn Bioengineering student spotlight series is Sonia Bansal. Sonia got her B.S. in Biomedical Engineering at Columbia University in 2014. She then came to Penn, where she recently got her Ph.D. in September of 2020 in Bioengineering under the advisement of Robert Mauck, Mary Black Ralston Professor of Orthopaedic Surgery and Professor of Bioengineering. Her dissertation is entitled "Functional and Structural Remodeling of the Meniscus with Growth and Injury" and focuses on the ways the knee meniscus changes while being actively loaded (growth) and under aberrant loading (injurious) conditions. She has presented her work internationally and has first authored four papers, with two more in preparation. She is passionate about K-12 STEM outreach and teaching at the collegiate level. She has been on the teaching team for six classes in the department, and is the first recipient of the Graduate Fellowship for Teaching Excellence from the Bioengineering department.
What drew you to the field of Bioengineering?
I first got interested in Bioengineering when I realized that it would let me merge my interests in biology and the human body with my desire to solve big questions by building and creating solutions. I applied to college knowing it was what I wanted to study.
What kind of research do you conduct, and what is the focus of your thesis?
My research is focused on the knee meniscus, specifically the impacts of its complex extracellular matrix and how that matrix changes during growth and after meniscal injury. My interests are largely translational, and in the future, I'd like to think about how we can use preclinical animal models to create effective therapeutics and drive clinical decision making in the orthopedic space.
What did you study for your undergraduate degree? How does it pair with the work you're doing now, and what advice would you give to your undergraduate self?
I studied Biomedical Engineering during my undergraduate education and worked in cartilage tissue engineering. These experiences helped guide me to my Ph.D. work here at Penn. The two pieces of advice I'd give my undergraduate self is to ask for help and that it's important to get more than five hours of sleep a night.
What's your favorite thing to do on Penn's campus or in Philly?
My favorite thing to do on campus was to read papers/write lectures/work on grants at a local coffee shop. I used to go to HubBub when it still existed, Saxby's, and United By Blue.
Have you done or learned anything new or interesting during quarantine?
I have embarked on a journey in culinary fermentation (variety of pickles and sourdough, of course), and recently started homebrewing!