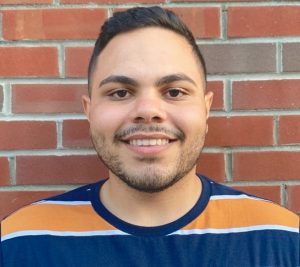 Christian Figueroa-Espada, a Penn Bioengineering Ph.D. student and National Science Foundation (NSF) Fellow, was selected as a Hispanic Scholarship Fund (HSF) Scholar from a highly-competitive pool of 85,000 applicants for their 2020-2021 program. One of only 5,100 awardees, Figueroa-Espada's scholarship comes from the Toyota Motor North America Program. As an HSF Scholar, he has access to a full range of Scholar Support Services, such as career coaching, internship, and full-time employment opportunities, mentoring, leadership development, and wellness resources, including tools for self-advocacy, well-being, and knowledge building.
Born and raised in the Island of Enchantment, Puerto Rico, Figueroa-Espada received his B.S. in Mechanical Engineering from the University of Puerto Rico at Mayagüez, and is currently a second-year Ph.D. student in the lab of Michael J. Mitchell, Skirkanich Assistant Professor of Innovation in Bioengineering, where he is funded by the National Science Foundation Graduate Research Fellowship Program (NSF GRFP), the Graduate Education for Minorities (GEM) Fellowship Program, and the William Fontaine Fellowship. His research interests lie in the interface of biomaterials, drug delivery, and immunology – designing RNAi therapeutics for the reprogramming of the tumor microenvironment. His current project focuses on polymer-lipid drug delivery systems to study potential strategies to prevent homing and proliferation of multiple myeloma cancer within the bone marrow microenvironment. This project is part of the Mitchell lab's recent National Institutes of Health (NIH) New Innovator Award.
"Chris has really hit the ground running on his Ph.D. studies at Penn Bioengineering, developing a new bone marrow-targeted nanoparticle platform to disrupt the spread of multiple myeloma throughout the body," says Mitchell. "I'm very hopeful that this prestigious fellowship from HSF will permit him to make important contributions to nanomedicine and cancer research."
Figueroa-Espada's passion for giving back to his community has allowed him to be involved in many mentorship programs as part of his roles in the Society of Hispanics and Professional Engineers (SHPE), the National Society of Professional Engineers (NSPE), the Society of Women Engineers (SWE), and the Graduate Association of Bioengineers (GABE). He continues with his fervent commitment, now working with the Penn chapter of the Society for Advancement of Chicanos/Hispanics and Native Americans in Science (SACNAS), and the Penn Interdisciplinary Network for Scientists Promoting Inclusion, Retention, and Equity (INSPIRE) coalition where he plans on leading initiatives that aim to enhance diversity and student participation in science, especially students from historically marginalized groups.
"This fellowship, along with my NSF Graduate Research Fellowship, GEM Fellowship, and William Fontaine Fellowship through the University of Pennsylvania, make my research on nanoparticle-based RNA therapeutics for the reprogramming of the tumor microenvironment to treat malignancies and overcome drug resistance possible," says Figueroa-Espada. "While my professional goal is to stay in academia and lead a research lab, my personal goal is to become whom I needed: a role model within the Latino STEM community, hoping to address many of the difficulties that impede Latino students' success in higher education, and thanks to Toyota Motor/HSF, NSF, and GEM, I am one step closer to meeting these goals."