Johnson, who has appointments in the Perelman School of Medicine and the School of Engineering and Applied Science, and a secondary appointment in the Annenberg School for Communication, will become the David L. Cohen University Professor.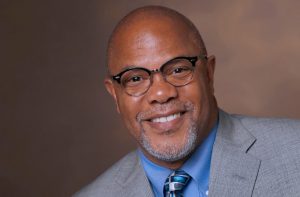 Kevin Johnson, a Penn Integrates Knowledge University Professor whose work as a physician-scientist has led to medical information technologies that improve patient safety, has been named the David L. Cohen University Professor. The announcement was made today by President Amy Gutmann.
"David Cohen's extraordinary leadership at the University and Penn Medicine, and longtime dedication to Philadelphia, has without a doubt shaped the booming campus, health system, and city we so much enjoy today," says Gutmann. "His dedication is mirrored by the extraordinarily influential, innovative, and committed Dr. Kevin Johnson, whose university professorship will now bear Ambassador Cohen's name."
Johnson joined Penn this year from the Vanderbilt University School of Medicine. A board-certified pediatrician and leading medical informaticist, he holds faculty appointments in the Department of Biostatistics, Epidemiology, and Informatics in the Perelman School of Medicine and the Department of Computer and Information Science in the School of Engineering and Applied Science. He is also vice president for applied informatics at the University of Pennsylvania Health System and has secondary faculty appointments in the Perelman School of Medicine's Department of Pediatrics and in the Annenberg School for Communication.
Cohen has served for two decades on Penn's Board of Trustees and recently concluded a 12-year term as chair. He was confirmed by the U.S. Senate last month as United States Ambassador to Canada, bringing to the role decades of experience as a senior executive at Comcast Corp., chair of the Ballard Spahr law firm, chief of staff to Philadelphia Mayor Ed Rendell, trustee chair at Penn, and major player in a number of other business, civic, political, and philanthropic venues.
In addition to serving as a Trustee, Cohen is a Penn alum, having graduated from what is now the University of Pennsylvania Carey School of Law in 1981. His wife and son also attended the Law School. Cohen's leadership in the University has been credited with helping guide the growth and advancement of both the University and Health System, in close partnership with both President Gutmann and her predecessor, Judith Rodin.
"It's an honor to hold a professorship named after Mr. Cohen," Johnson says. "Throughout his career, he has provided inspired leadership across Penn and our city and region. He is a passionate believer in uniting the public, private, and nonprofit sectors to tackle complex challenges and strengthen communities. Those who know me know that I've played a similar role as a pediatrician who works with technology, and who uses digital media to communicate to lay audiences about both. His passion for this city and our University's educational mission are inspiring."
N.B.: Johnson also holds a secondary appointment in the Department of Bioengineering. Read his full appointment announcement here.