by Sophie Burkholder
A Penn Bioengineer will soon join the Annenberg School for Communication as an Assistant Professor of Communication. David Lydon-Staley, Ph.D., recently completed two years as a Postdoctoral Researcher in Penn's Complex Systems Lab, led by Danielle Bassett, Ph.D., the J. Peter Skirkanich Professor of Bioengineering and Electrical and Systems Engineering.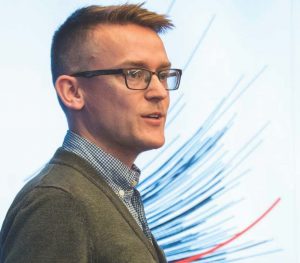 Lydon-Staley started out studying English and Psychology in his undergraduate education, going on to pursue a Ph.D. from Penn State University in Human Development and Family Studies. What brought him to Bassett's lab was his interest in using cognitive neuroscience to understand the brain patterns and behaviors behind substance abuse and addiction. There, Lydon-Staley examined networks of nicotine withdrawal behaviors, how those behaviors impact each other, and what information they might hold about how to help smokers in their quit attempts. "David's breadth of interest is only rivalled by his expansive expertise and bottomless enthusiasm," says Bassett. "I feel incredibly lucky to have had the chance to work with him."
In his new role at Annenberg, Lydon-Staley will launch the Addiction, Health, and Adolescence Lab, or "AHA!" for short. "My recent work examines engagement with new media during the course of daily life, and how the information sought and encountered relates to both curiosity and substance use," he says. Lydon-Staley's new lab will use methods like experience-sampling and functional Magnetic Resonance Imaging to understand brain and behavior, while drawing on theories and tools from  communication, psychology, cognitive neuroscience, network science, and more.
Even though Lydon-Staley will be working out of a new school at Penn, he still has plans to continue collaborating with the Bassett Lab. One ongoing project he has with the lab involves studying how curiosity works in everyday life, and another looks at moment-to-moment patterns of cigarette withdrawal in daily smokers. "Working in the Bassett Lab gave me the confidence and ability to stretch my wings, chase ideas across traditional disciplinary lines, learn new skills, and collaborate with creative and capable scientists every day," says Lydon-Staley. Those are opportunities he hopes to keep chasing and fostering in his new position.
Beyond continuing his prior research from a communication-based angle, Lydon-Staley is also excited to develop new classes in the Annenberg School. "Annenberg is a very special place. It is an active school, with frequent seminars and many vibrant research centers," he says. Informed and inspired by the breadth of research from Annenberg scholars, Lydon-Staley hopes that he can create classes that focus on the psychology of time and timing in everyday life—topics that he spends a lot of time thinking about himself.
Above all, Lydon-Staley is excited by the opportunity to stay at Penn and continue the kind of versatile and multi-faceted studies that have been the bedrock of his research so far. He hopes to continue expanding his previous work with not only the Engineering School, but the School of Medicine and the Graduate School of Education as well. "The opportunities for interdisciplinary collaboration at Penn are unrivaled, and I am constantly in awe of the quality of students here."