by Michele W. Berger
In a course from Annenberg's David Lydon-Staley, seven graduate students conducted single-participant experiments. This approach, what's known as an "n of 1," may better capture the nuances of a diverse population than randomized control trials can.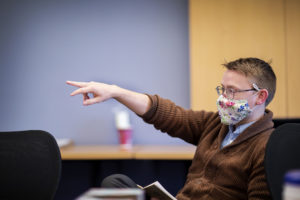 To prep for an upcoming course he was teaching, Penn researcher David Lydon-Staley decided to conduct an experiment: Might melatonin gummies—supplements touted to improve sleep—help him, as an individual, fall asleep faster?
For two weeks, he took two gummies on intervention nights and none on control nights. The point, however, wasn't really to find out whether the gummies worked for him (which they didn't), but rather to see how an experiment with a single participant played out, what's known as an "n of 1."
Randomized control experiments typically include hundreds or thousands of participants. Their aim is to show, on average, how the intervention being studied affects people in the treatment group. But often "there's a failure to include women and members of minoritized racial and ethnic groups in those clinical trials," says Lydon-Staley, an assistant professor in the Annenberg School for Communication. "The single-case approach says, instead of randomizing a lot of people, we're going to take one person at a time and measure them intensively."
In Lydon-Staley's spring semester class, Diversity and the End of Average, seven graduate students conducted their own n-of-1 experiments—on themselves—testing whether dynamic stretching might improve basketball performance or whether yoga might decrease stress. One wanted to understand the effect of journaling on emotional clarity. They also learned about representation in science, plus which analytical approaches might best capture the nuance of a diverse population and individuals with many intersecting identities.
"It's not just an 'n of 1' trying to do what the big studies are doing. It's a different perspective," says Lydon-Staley. "Though it's just one person, you're getting a much more thorough characterization of how they're changing from moment to moment."
Read the full story in Penn Today.
David Lydon-Staley is an Assistant Professor of communication and principal investigator of the Addiction, Health, & Adolescence Lab in the Annenberg School for Communication at the University of Pennsylvania. Lydon-Staley is a former postdoctoral research in the Complex Systems Lab of Dani S. Bassett, J. Peter Skirkanich Professor in Bioengineering and in Electrical and Systems Engineering.