by Amanda Mott &  Louisa Shepard
Four University of Pennsylvania undergraduates have received 2023 Goldwater Scholarships, awarded to second- or third-year students planning research careers in mathematics, the natural sciences, or engineering.
They are among the 413 students named 2023 Goldwater Scholars from more than 5,000 students nominated by 427 academic institutions in the United States, according to the Barry Goldwater Scholarship & Excellence in Education Foundation. Each scholarship provides as much as $7,500 each year for as many as two years of undergraduate study.
Penn has produced 59 Goldwater Scholars since Congress established the scholarship in 1986 to honor U.S. Senator Barry Goldwater.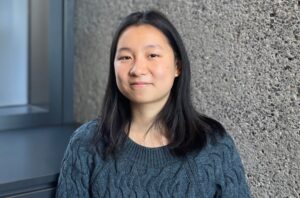 Angela Song, from Princeton Junction, New Jersey, is a third-year majoring in bioengineering in the School of Engineering and Applied Science. She is interested in engineering molecular therapeutics for disease. She works in Douglas C. Wallace's lab in the Center for Mitochondrial and Epigenomic Medicine at the Children's Hospital of Philadelphia, focusing on designing engineered proteins with mitochondrial applications. At Penn, Song is the vice president of design for UnEarthed, a student-published educational magazine for West Philadelphia elementary school children, and president of the Penn American Red Cross Club. After graduating, Song plans to continue pursuing research through a Ph.D. in bioengineering.
Read the full list of Penn 2023 Goldwater Scholars in Penn Today.
Read about previous Penn Bioengineering Goldwater Scholars here.