by Katherine Unger Baillie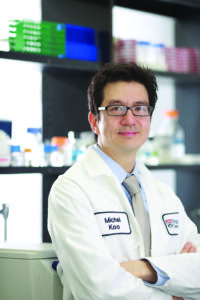 A cross-kingdom partnership between bacteria and fungi can result in the two joining to form a "superorganism" with unusual strength and resilience. It may sound like the stuff of science fiction, but these microbial groupings are very much part of the here and now.
Found in the saliva of toddlers with severe childhood tooth decay, these assemblages can effectively colonize teeth. They were stickier, more resistant to antimicrobials, and more difficult to remove from teeth than either the bacteria or the fungi alone, according to the research team, led by University of Pennsylvania School of Dental Medicine scientists.
What's more, the assemblages unexpectedly sprout "limbs" that propel them to "walk" and "leap" to quickly spread on the tooth surface, despite each microbe on its own being non-motile, the team reported in the journal Proceedings of the National Academy of Sciences. 
"This started with a very simple, almost accidental discovery, while looking at saliva samples from toddlers who develop aggressive tooth decay," says Hyun (Michel) Koo, a professor at Penn Dental Medicine and a co-corresponding author on the paper. "Looking under the microscope, we noticed the bacteria and fungi forming these assemblages and developing motions we never thought they would possess: a 'walking-like' and 'leaping-like' mobility. They have a lot of what we call 'emergent functions' that bring new benefits to this assemblage that they could not achieve on their own. It's almost like a new organism—a superorganism—with new functions."
Read the full story in Penn Today.
Hyun (Michel) Koo is a professor in the Department of Orthodontics and the divisions of Community Oral Health and Pediatric Dentistry in the School of Dental Medicine, co-founder of the Center for Innovation & Precision Dentistry (CiPD) at the University of Pennsylvania, and member of the Penn Bioengineering Graduate Group.