by Ron Ozio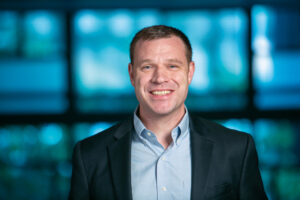 Gregory R. Bowman, a pioneer of biophysics and data science, has been named a Penn Integrates Knowledge University Professor at the University of Pennsylvania. The announcement was made today by President Liz Magill and Interim Provost Beth A. Winkelstein.
Bowman holds the Louis Heyman University Professorship, with joint appointments in the Department of Biochemistry and Biophysics in the Perelman School of Medicine and the Department of Bioengineering in the School of Engineering and Applied Science.
His research aims to combat global health threats such as COVID-19 and Alzheimer's disease by better understanding how proteins function and malfunction, especially through new computational and experimental methods that map protein structures. This understanding of protein dynamics can lead to effective new treatments for even the most seemingly resistant diseases.
"Delivering the right treatment to the right person at the right time is vital to sustaining—and saving—lives," Magill said. "Greg Bowman's novel work holds enormous promise and potential to advance new forms of personalized medicine, an area of considerable strength for Penn. A gifted researcher and consummate collaborator, we are delighted to count him among our distinguished PIK University Professors."
Bowman came to Penn from the Washington University School of Medicine's Department of Biochemistry and Molecular Biophysics, where he served on the faculty since 2014. He previously completed a three-year postdoctoral fellowship at the University of California, Berkeley.
Bowman's research utilizes high-performance supercomputers for simulations that can better explain how mutations and disease change a protein's functions. These simulations are enabled in part through the innovative Folding@home project, which Bowman directs. Folding@home empowers anyone with a computer to run simulations alongside a consortium of universities, with more than 200,000 participants worldwide.
His research has been supported by the National Science Foundation, National Institutes of Health, National Institute on Aging, and Packard Foundation, among others, and he has received a CAREER Award from the NSF, Career Award at the Scientific Interface from the Burroughs Wellcome Fund, and Thomas Kuhn Paradigm Shift Award from the American Chemical Society. He received a Ph.D. in biophysics from Stanford University and a B.S. (summa cum laude) in computer science, with a minor in biomedical engineering, from Cornell University.
"Greg Bowman's highly innovative work," Winkelstein said, "exemplifies the power of our interdisciplinary mission at Penn. He brings together supercomputers, biophysics, and biochemistry to make a vital impact on public health. This brilliant fusion of methods—in the service of improving people's lives around the world—will be a tremendous model for the research of our faculty, students, and postdocs in the years ahead."
The Penn Integrates Knowledge program is a University-wide initiative to recruit exceptional faculty members whose research and teaching exemplify the integration of knowledge across disciplines and who are appointed in at least two schools at Penn.
The Louis Heyman University Professorship is a gift of Stephen J. Heyman, a 1959 graduate of the Wharton School, and his wife, Barbara Heyman, in honor of Stephen Heyman's uncle. Stephen Heyman is a University Emeritus Trustee and member of the School of Nursing Board of Advisors. He is Managing Partner at Nadel and Gussman LLC in Tulsa, Oklahoma.
This story originally appeared in Penn Today.
Dr. Bowman is Penn Bioengineering's third PIK Professor after Kevin Johnson and Konrad Kording. See the full list of University PIK Professors here.