by Alex Gardner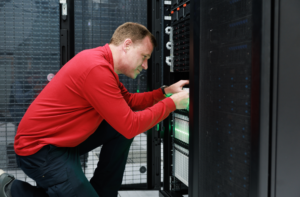 Two heads are better than one. The ethos behind the scientific research project Folding@home is that same idea, multiplied: 50,000 computers are better than one.
Folding@home is a distributed computing project which is used to simulate protein folding, or how protein molecules assemble themselves into 3-D shapes. Research into protein folding allows scientists to better understand how these molecules function or malfunction inside the human body. Often, mutations in proteins influence the progression of many diseases like Alzheimer's disease, cancer, and even COVID-19.
Penn is home to both the computer brains and human minds behind the Folding@home project which, with its network, forms the largest supercomputer in the world. All of that computing power continually works together to answer scientific questions such as what areas of specific protein implicated in Parkinson's disease may be susceptible to medication or other treatment.
Led by Gregory Bowman, a Penn Integrates Knowledge professor of Biochemistry and Biophysics in the Perelman School of Medicine who has joint appointments in the Department of Biochemistry and Biophysics in the Perelman School of Medicine and the Department of Bioengineering in the School of Engineering and Applied Science, Folding@home is open for any individual around the world to participate in and essentially volunteer their computer to join a huge network of computers and do research.
Using the network hub at Penn, Bowman and his team assign experiments to each individual computer which communicates with other computers and feeds info back to Philly. To date, the network is comprised of more than 50,000 computers spread across the world.
"What we do is like drawing a map," said Bowman, explaining how the networked computers work together in a type of system that experts call Markov state models. "Each computer is like a driver visiting different places and reporting back info on those locations so we can get a sense of the landscape."
Individuals can participate by signing up and then installing software to their standard personal desktop or laptop. Participants can direct the software to run in the background and limit it to a certain percentage of processing power or have the software run only when the computer is idle.
When the software is at work, it's conducting unique experiments designed and assigned by Bowman and his team back at Penn. Users can play scientist and watch the results of simulations and monitor the data in real time, or they can simply let their computer do the work while they go about their lives.
Read the full story at Penn Medicine News.